5 Lessons Learned from My Parents' Marriage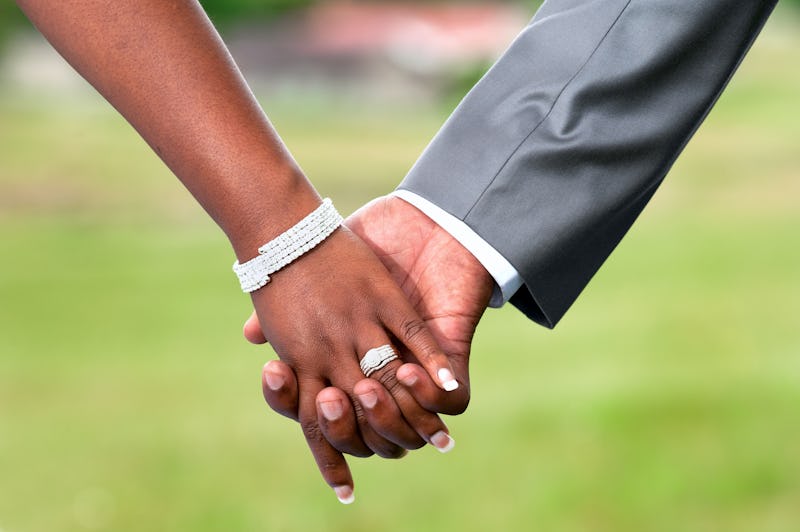 Some consider wedding anniversaries mere dates, but November 18 is one that I take special time to commemorate. November 18, 1988 is the date my parents joined together in wedded bliss. They recently celebrated their silver anniversary, and I am so inspired by their love — 25 years in a rare milestone, especially at a time when Black American women are told that their chances of finding love are slim.
I don't believe in twisted Cinderella tales of happily ever after. Marriages have their bumps, bruises and turmoil, but my parents celebrating 25 years together has taught me several meaningful lessons about love, loss and relationships.
1. Life is Not a Romantic Comedy
I am a rom-com fiend — sorta like Mindy Lahiri. I get so engrossed in these faux tales of serendipity, but I've come to realize that love is nothing like Beauty and the Briefcase . My parents have known each other their entire lives. They were raised in the same neighborhood, and my father often tells me that he's always felt the need to protect and nurture my mother. Their tale is cute, but that isn't the core of their love. Theirs was no simple happily ever after story.
2. For Better or Worse is Real
Drug and alcohol addiction riddled my parents' marriage. There were expensive rehab facilities, drunken arguments at 3 a.m. and threats of divorce, but both of them remained dedicated to saving their marriage. Vows are important, and they've taken them seriously. Marriage is full of happiness, but there are also dark patches. My mother once told me "If a wife or husband can hold on in the worst moment…it gets better on the other side." Sobriety has strengthened their marriage, and so has counseling.
3. Romance is not Love
We often confuse roses, chocolate, and champagne with love. Real love emerges when the rose-colored glasses are removed and the romance cools. Many couples don't last past the romance stage. They hit the door as soon as the random love notes stop coming. There is a difference between romance and love. Romance is fleeting. Love endures. Love heals.
4. You've Gotta Compromise
Dad is a Westerns and horror movie fiend. Mom loves comedies and Madea movies. But somehow, they've learned to compromise, and I see those small compromises as a metaphor for something bigger. I'm a workaholic, but my beau prefers me to cater to his every whim. If my parents can compromise on television viewing time, perhaps we can compromise on this.
5. Don't Believe the Hype
Mainstream media loves to pathologize Black women. We're too strong. We're not vulnerable enough. Black men don't love us. We're never going to get married. It's all lies. Mom has a successful career, lots of backbone, and a mouth that'd make a sailor blush. She identifies as a Black Feminist. She's married.