7 Best Celebrity Back-To-School Accessories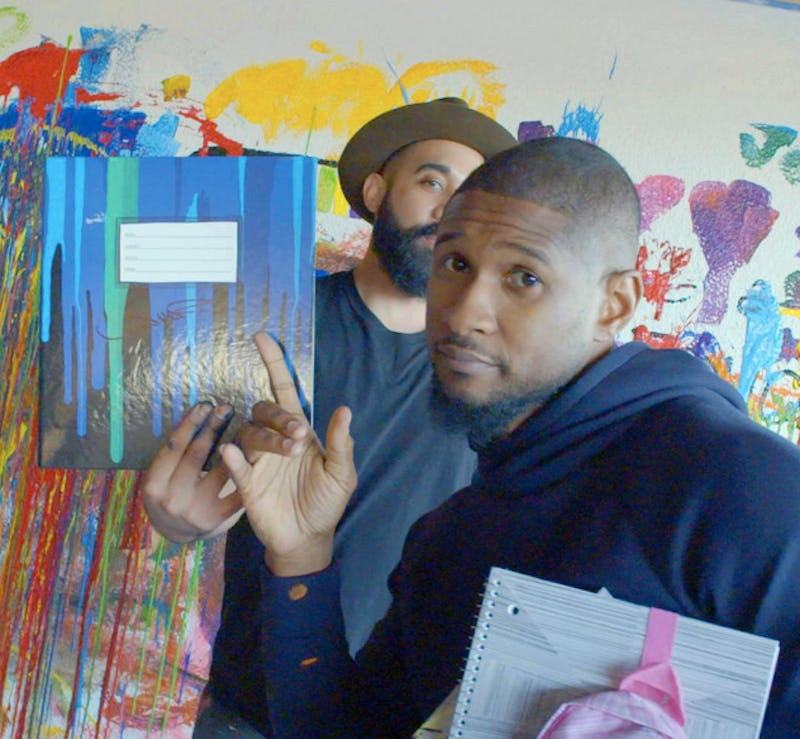 I am going back to school. Yes, I'm going to be one of those annoying mature age students that doesn't "get" youth culture and needs the university's technology explained to her by student guidance staff, but without all the things that distracted me a decade ago (all the things = alcohol), I'm going to be the most diligent of class members. Meanwhile, I've been as giddy as a school girl with rainbow colored gel pens choosing all my stationery. And just this morning I purchased Usher collaboration notebooks for class. Yes, I'm a 30-year-old Master's student with Usher notebooks. I am an adult and I am cool.
Not all back to school accessories need to be Muji-chic, and they also don't have to be Hannah Montana trapper-keeper level teeny-bopper. You can have celebrity brand or celebrity-themed back-to-school stationery that is practical, nice, and allows you to subtly wear your stan on your sleeve. Or maybe I'm just trying to justify a nearly 15 year obsession with Usher by dragging the rest of you into the world of celebrity notebooks and pencils with me. Either way, if you're heading back to school at any level, or if you're someone who uses stationery and other such items a lot, here are the best celebrity study accessories that money can buy you:
1. Usher branded Yoobi stationery
The sexiest man alive, Usher, collaborated with Yoobi and artist Jonni Cheatwood to make some pretty awesome pencils, pencil cases, notebooks and folders for school. As mentioned, I have already been on a shopping spree of these. You can shop the range on Yoobi's site or at Target stores.
2. Beyoncé back to school backpack
Last year Bey released cooler-than-thou back to school accessories including this cute backpack ($125), Beyoncé branded notebooks and "Flawless" pens and pencil cases. The latter items are no longer available on her site, but fingers crossed she'll restock soon. Meanwhile, proceeds from backpack sales go towards helping underfunded communities with the Back To School program, which aims to give kids the opportunity to stuff their backpacks with much needed school supplies.
3. Unofficial Biggie notebook
I'm kind of very much in love with this Biggie notebook ($24.06) from Etsy store KazvareMadeIt.
4. Taylor Swift coffee mug
Part of going back to school is having too much caffeine. Save the environment, show your love for Tay Tay, and get your buzz on all at once with this (actually quite stylish) Taylor Swift 1989 travel mug. It even costs $19.89, cute!
5. Hillary Clinton notebooks
Hillary doesn't have any stationery available on her site (yo, Hil, I see a gap in your promo gear!), but I found an amazing selection of Hillary Clinton-themed Moleskine notebooks on Zazzle for around $30.
6. Notorious RBG
If you're going to get political/into Biggie, you might as well combine the two with this incredible, unofficial, Notorious RBG spiral bound notebook for $12 from Redbubble.
7. One Direction gel pens
I've seen these around the Internet but I can't find an official source, so they might be unofficial but mass produced regardless. Suffice to say, there are plenty available on eBay. Hold onto your gel pens girls, because now they've got One Direction on them. If One Direction/these pens were a thing when I was fourteen, I probably would have (fore sure) had them.
Images: Usher/Instagram; KazvareMadeIt/Etsy; TaylorSwift.com; Zazzle.com; Redbubble.com; seeandselect2012/eBay