Last Minute Thanksgiving Sides: Spicy Beet Salad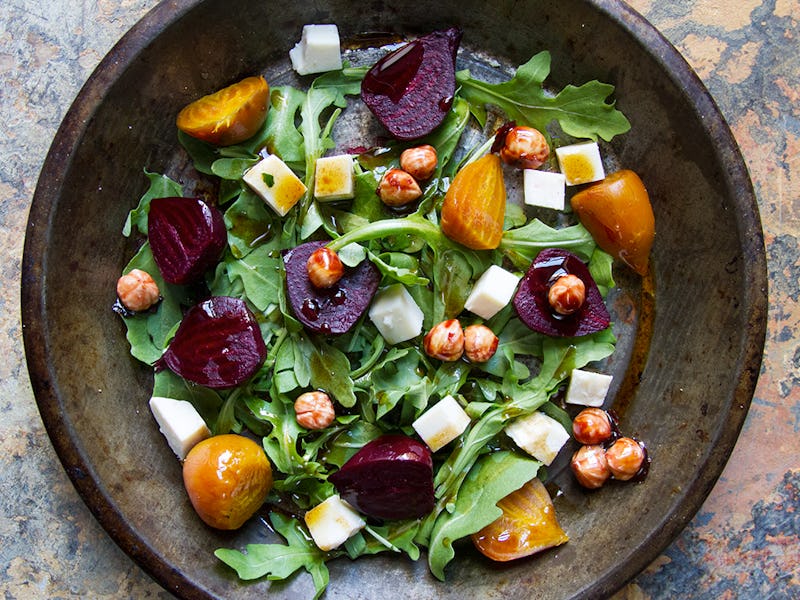 There's so much heaviness on the Thanksgiving table — this salad can add an element of freshness while still integrating fall flavors.
INGREDIENTS:
4 red baby beets
4 golden yellow baby beets
Baby Arugula
Smoked ricotta, cut into small cubes
Caramelized spiced hazelnuts
FOR VINAIGRETTE:
2 tablespoons extra virgin olive oil
¾ tablespoon balsamic vinegar
Salt and freshly ground black pepper
FOR SPICED HAZELNUTS:
½ cup raw hazelnuts
¼ cup honey or brown sugar
½ teaspoon cayenne pepper
2 tablespoons freshly squeezed pomegranate juice
PREPARING THE BEETS:
1. Preheat the oven to 400F.
2. Cut the green part of the beets off.
3. Individually wrap the beets in parchment paper.
4. Place them in a roasting pan and bake in the oven for 25 minutes.
5. Remove beets from the oven and, while still hot but cool enough to handle, peel off the skin very carefully with dry paper towel.
6. Once cooled completely, cut the beets into quarters.
PREPARING THE CARAMELIZED SPICED HAZELNUTS:
1. Combine honey, pomegranate juice, and cayenne pepper on a small skillet.
2. Over medium heat in a small skillet, add the hazelnuts and mix well so the pieces are well coated.
3. Once the honey mixture gets syrupy in texture, set it aside to cool off.
PREPARING THE VINAIGRETTE:
1. In a small bowl mix 2 tablespoons extra virgin olive oil with ¾ tablespoon balsamic vinegar, salt, and freshly ground black peppercorn.
2. Whisk until it is homogenous in texture.
TO FINISH:
1. On a big serving plate or on individual salad plates, arrange the beets, arugula, ricotta, and hazelnuts.
2. Drizzle the olive oil balsamic vinaigrette on top.
This recipe originally appeared in MAZA Cooking Journals . All images are courtesy of MAZA Cooking Journals .