Lily-Rose Depp Wore A Sparkly Headband for Chanel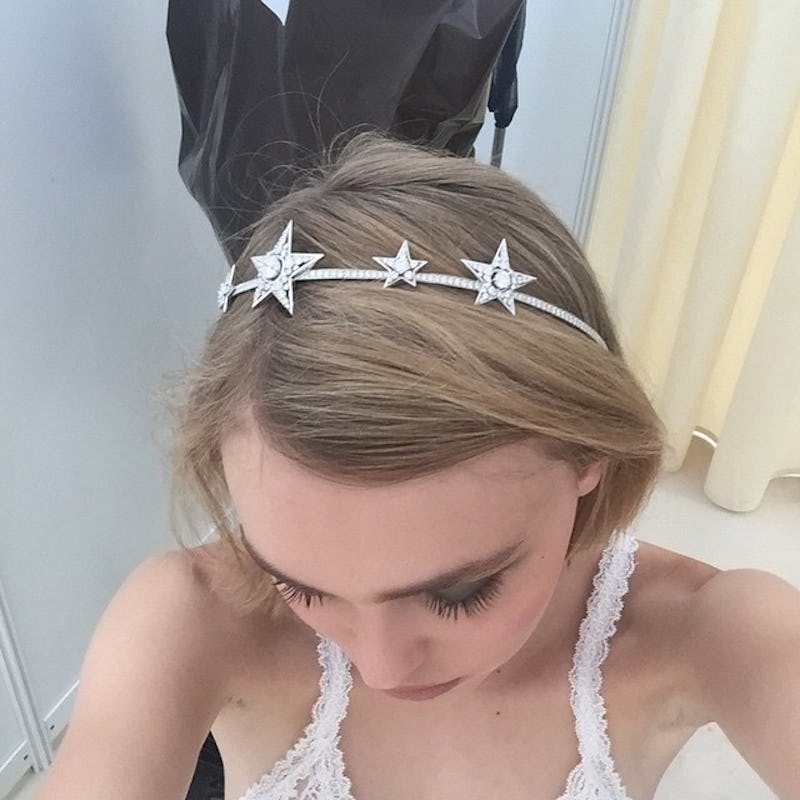 Johnny Depp and Vanessa Paradis' daughter stole some of the spotlight at Chanel's Fall 2015 Haute Couture show with some serious head jewels. Lily-Rose Depp wore a sparkling headband with star detailing to compliment her bob cut last night, and I am pretty sure the tastefully bedazzled headpiece just upstaged all of Blair Waldorf's signature staples. You heard it here first, friends: Queen Bee has been dethroned.
This apple obviously has not fallen far from the tree. Depp's mother Vanessa Paradis has been a recurring spokeswoman for Chanel and a muse of the label's designer, Karl Lagerfeld, since 1999. Clearly, fashion sense has been embedded in the 16-year-old's DNA.
The child-actress-turned-model gave fans a sneak peak of the bling in a literal head shot before changing and participating in the show. Depp walked arm-in-arm with actress Lily Collins, both showcasing two of the brand's elegant black gowns.
What I love about this look is that it is such a simplistic statement piece. The sparkles are distributed equally throughout the headband, and while they are undeniably tres chic, they aren't blinding you.
Also note that Depp dismisses the stereotypical headband style in which the band pushes back your hair, exposing your forehead. The head piece is gently pushed down on top of the head, leaving strands framing her face. Classic.
Obsessed? I am too. That's why I've browsed around to find you seven sparkly headbands that are Depp-approved and totally affordable.
1. The Dessy Group
Vintage Look Embellished Bridal Headband, $21.00, dessy.com
2. Saks Fifth Avenue
Natasha Embellished Headband, $19.99, saksoff5th.com
3. Bling Jewelry
Triple Row Of Crystal Leaf Gatsby Inspired Bridal Tiara Headband, $60.99, bluefly.com
4. Bling Jewelry
Rhinestone Swirl Crystal Flower Headband Gatsby Inspired, $24.99, bluefly.com
5. Bling Jewelry
Rhinestone Wave Style Pearl Headband Gatsby Inspired, $24.99, bluefly.com
6. Bling Jewelry
Rhinestone Crystal Flower Cluster Gatsby Inspired Bridal Headband, $29.99, bluefly.com
7. Bella Bridal
Antique Filigree Wedding Headband Or Bridal Tiara With Leaves And Pearls, $37.95, bellabridalandheirlooms.com
Happy shopping!
Images: lilyrose_depp/Instagram, Courtesy Brands(7)