Is 'Poldark' Based On A True Story?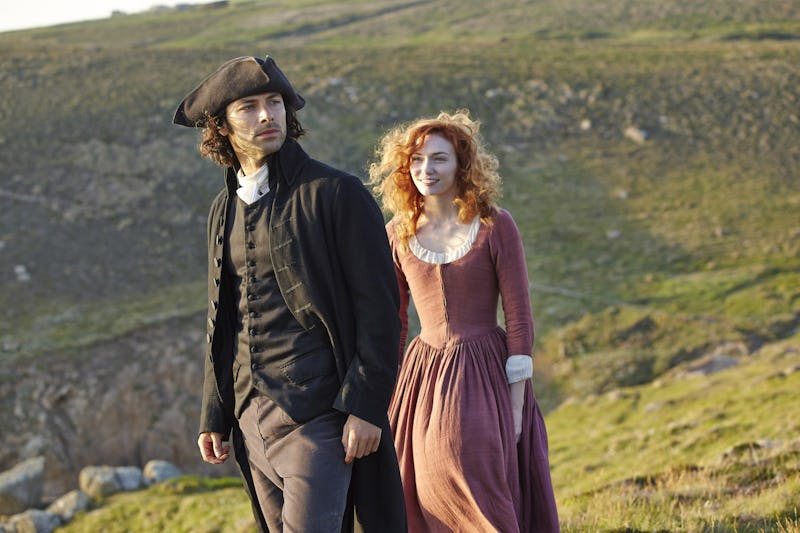 I've found your new summer obsession, and it's a show on PBS called Poldark. The story is that a British man named Ross Poldark returns home to Cornwall from the American Revolutionary War to find his fiancée Elizabeth has married his cousin, because she had presumed him dead. Is Poldark on PBS based on a true story? The short answer is: no. While Poldark does take place in a realistic historical time period, the characters are not from history. They are fictional. However, the series takes inspiration from a variety of places — one of the characters was even inspired by the original author's wife! How cute is that?
The series was adapted from a series of novels by Winston Graham that all take place in Cornwall, which is located at the Southwest tip of England below Wales. The books were adapted into a mini-series once before in the 1970s. The books, while a work of fiction, does filter snippets of real life in there. In fact, there is also at least one example of Graham's novels inspiring life. While his Cornish character Demelza never existed, the first Demelza in the real Cornwall was named after the character. Here are two other places where Poldark may or may not bump into IRL territory.
The Mines
First of all, the Cornish mining community that the characters are involved with behind all the angst and drama is based on a real period in history and is especially significant when you consider that the first novels were published in the mid-1940s, when the Second World War was over and an important era for Labor was taking place in England. It reminds me of how Arthur Miller's The Crucible used the Salem Witch Trials to comment on McCarthyism in the 1950s.
As for the Cornish copper mines, the industry was in fact dying and the miners out of work during this time period that was called The Great Copper Slump of the 1790s. Poldark's struggle is not that far off.
The Man
There is a rumor, or dare I say a fan theory, that Ross Poldark is based on Cornish Lieutenant General Richard Hussey Vivian, who fought at the Battle of Waterloo. Besides being from Cornwall, both the fictional Poldark and the real General had successful military careers, connections to mining communities, and similar politics. The author himself, who has been dead since 2003, even researched the Battle. However, there's no way to confirm for certain whether or not this man was the character's inspiration.
Images: Robert Viglasky/Mammoth Screen for MASTERPIECE; Giphy (2)