The Voice Of 'Minions' Herb Is VERY Familiar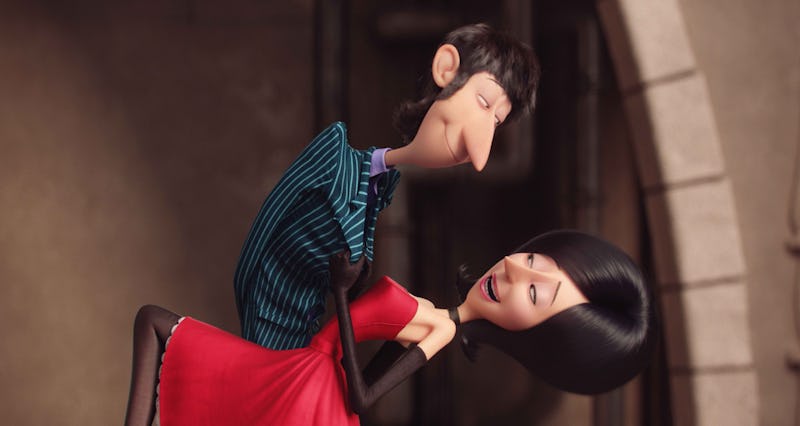 One of the coolest things about living in a golden age of animation is how many incredible actors now flock to voice roles in the latest releases. From Amy Poehler leading Inside Out to Chris Pratt starring in The Lego Movie, seemingly every major animated movie of the last few years has featured at least a few A-list talents. Minions, out Jul 10, is so exception; the Despicable Me spinoff has a star-studded cast, including the voices behind its two evil villains. Yet while it's pretty easy to tell that Sandra Bullock voices Scarlet Overkill, the character's husband is more of a mystery. Who is the voice actor for Herb in Minions ? That voice is just so familiar.
For good reason — Herb Overkill is voiced by none other than former Mad Men star Jon Hamm. Yes, really; the guy best known for bringing one of TV's darkest antiheroes to life is starring in an animated kids' movie. True, he does play a villain in Minions — but it's with a bit more, shall we say, flair than he brought to the role of Don Draper. If you're surprised he signed onto the role, though, this might explain it; while on The Daily Show to promote the film, Hamm joked that part of the movie's appeal comes from the Minion characters' resemblance to certain, uh, adult objects.
"They look like capsules, they look like pills. So people are like 'I'm used to that, I'm into it.'" Hamm said.
Well, that's one way to think of them. Reason for his casting aside, it's very cool that Hamm decided to join the cast of Minions, and he adds some extra excitement to an already crazy-fun movie. He's so good, in fact, that you might be wondering how he's never done voice work in the past, but actually, Hamm is pretty experienced when it comes to animation. Here's where you might have heard him before:
1. Shrek Forever After
In the fourth Shrek movie, released in 2010, Hamm voiced Brogan the Ogre. Because a hideous monster is of course what you imagine when you think of Jon Hamm.
2. Bob's Burgers
Yes, that was Jon Hamm as the talking toilet in Season 3's "O.T.: The Outside Toilet." Why wouldn't you have guessed that?
3. That American Airlines Ad
Because who better to narrate an American Airlines commercial than the guy famous for playing an American Airlines-loving ad exec? 2013's "Change is in the Air" was a perfect fit for the actor.
4. The Simpsons
Hamm played an FBI agent on a 2010 episode of The Simpsons in an appearance that impressed executive producer Al Jean. "You gave him one note and he immediately did 12 great things with it," Jean told Entertainment Weekly . "He was really funny. And handsome. He had it all." I agree.
5. Archer
Continuing his streak of playing the most random animated roles on TV, Hamm voiced Captain Murphy on two episodes of Archer back in 2013. Can't you see the resemblance?
6. Family Guy
October 7, 2012: the day that will forever be remembered as when Peter Griffin turned Don Draper into a Star Wars Jedi.
7. American Dad!
On a 2012 episode of American Dad!, Hamm hilariously cameo-ed as himself in a PSA for domestic violence. Honestly, I'd pay more attention if every ad on TV started with "Hi, I'm Jon Hamm."
Clearly, Hamm has a bright future ahead of him if the whole regular-acting thing doesn't work out. He may be an A-list drama star, but when it comes to animation, he's proven that he's equally impressive.
Images: Universal Pictures; Fox