5 Excuses To Use Oreos In Your Dessert Today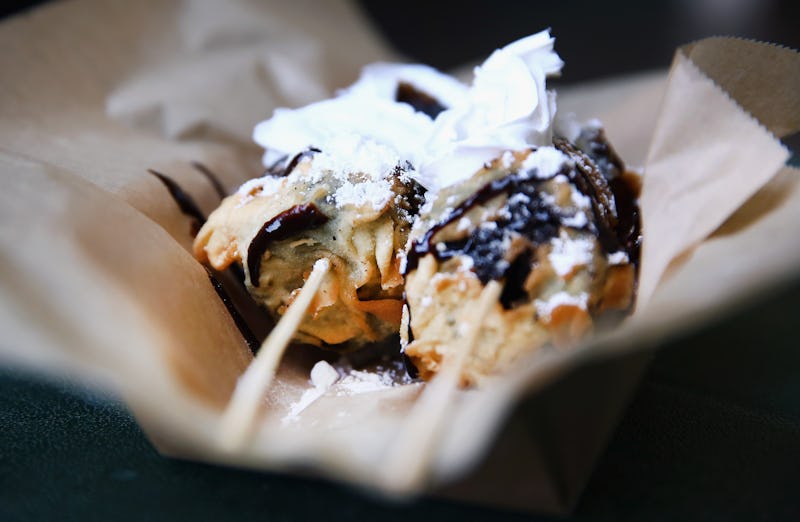 Tom Pennington/Getty Images Sport/Getty Images
I have a confession to make: I'm a big sucker who can't walk by an Oreo display in the grocery store without at least thinking about picking up a box. So in honor of #ChocolateDay, I've compiled a list of five Oreo recipes that are great excuses to go out and bake something delicious that you never knew was possible. Treat yourself!
Like a lot of other works of art, the first Oreo was created in Manhattan's Chelsea neighborhood. Since their conception in 1912, Oreos have come in loads of flavors, and even had their own cereal. Oreo O's were sadly discontinued in most of the world in 2007, but they still enjoy distribution in South Korea. If you're ever in the neighborhood, you'll know to keep an eye out. Oreos even helped Matt Damon take down John Malkovich in a high stakes game of Texas hold 'em.
Oreos are versatile little cookies. In their 103 years, they have become the standard foundation of any cookies-and-cream flavored creation, which basically makes them the champion of cookies. Since 2006, they've been free of trans fats, and they're about 99.9 percent vegan -- the 0.1 percent attributed to incidental cross-contact with milk products during factory production.
Chocoholics, stress-bakers, and Oreo fanatics rejoice! Here are the Internet's best recipes that include the almighty Oreo.
Dirt Cup Oreo Cocktail
Basically, this brilliant fusion of childhood favorites and grownup libations is a White Russian garnished with Oreo crumbs and a vodka-soaked gummy worm. Drink up!
Oreo-Stuffed Brownies
I've made something pretty similar to this before without the festive birthday spin, but this explosion of color and sugary glory is truly unmatched. You could make this dessert with regular old Oreos, of course, or use chocolate-filled Oreos and chocolate syrup to maximize the chocolate, or go crazy and try your hand at making blondies with vanilla Oreos.
Baked "Deep Fried" Oreos
If you're really lucky, you might even have all the ingredients for this recipe in your house right now. Simply put, these are milk-dipped Oreos, wrapped up in Pillsbury crescent rolls, baked for 12 minutes at 375 degrees, and dusted with powdered sugar.
Pumpkin Oreo Cookie Balls
It's obviously still summer, but you may want to go ahead and pin this bad boy for the day you start craving pumpkin-spice-everything. Made with pumpkin puree and spice, white chocolate, vanilla Oreos, cream cheese, and pretzels for stems, these will surely get you through to September, when Starbucks brings back your favorite seasonal latte (I maintain that you are all crazy. The gingerbread latte is so much better).
The S'mOreo
Yes, you read correctly. That, my friends, is the S'mOreo. I'm not even sure I fully appreciate the genius of this dessert yet, but I will soon, because I'm going to make it as soon as humanly possible. Layers of Oreos, marshmallows, chocolate bars, butter, and more chocolate will almost certainly bring a tear to your eye upon your first bite. I need to go to the store ...
Happy #ChocolateDay, everyone!
Images: Getty Images; Climbing Grier Mountain; Averie Cooks; Something Swanky (2); What's Cooking Love