The Perfect Places To Enjoy Sbux's New Menu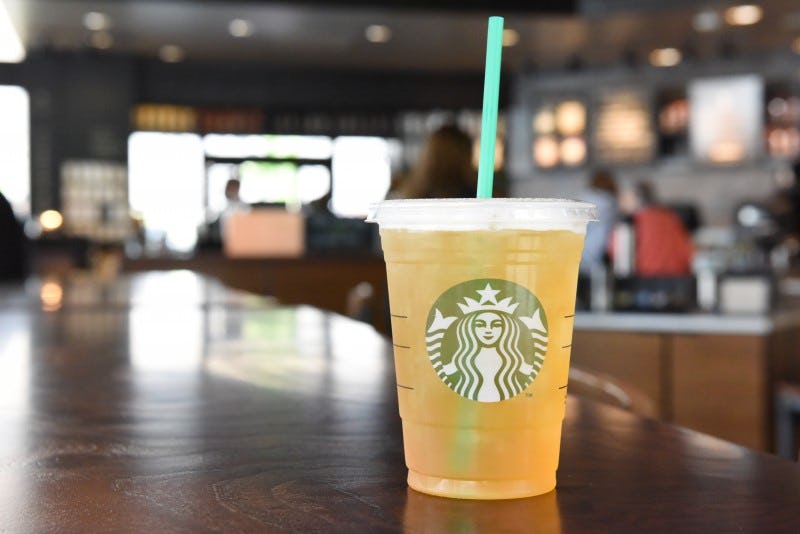 Further evidence that one very particular coffee chain has set up a small control port in my mind that reads my thoughts and subsequently makes business decisions that adhere to them: Starbucks' new summer menu items sound like they were legitimately curated from my brain. Seriously — it's like they were made just for me. And also the enjoyment of everyone else in the world, too, of course... but mostly for me.
Summer is the season for iced tea and picnics, and Starbucks is capitalizing on that fact by offering a new Teavana Shaken Iced Mango Black Tea Lemonade (aka the longest named drink on the planet), along with picnicky snacks like olives and a new bistro box. The bistro box, by the way, wis an "Omega-3 Bistro Box," featuring smoked wild Alaskan salmon cream cheese spread, edamame hummus, Omega-3-infused trail mix with dark chocolate chunks, wheat-free crackers and cucumbers. That sounds like a lot of delicious things in one box, does it not?
Now, let's talk about snacks (which is a statement I make so alarmingly frequently it should maybe be my catchphrase, or possibly the title of my memoir). According to a press release, some Starbucks stores will begin to "feature a curated selection of innovative, delicious snacks made by 13 companies." Some of these snacks include "crunchified real cheese from Moon Cheese, toasted sweet and crunchy Bare Coconut Chips, freshly packed pitless olives from OLOVES."
I don't care, OLOVE it.
Ahem.
Finally, in the less snacky but equally foody department, Stabucks is adding a BBQ Beef Brisket Sandwich on sourdough. So next time you want some BBQ to go with your latte, they've got you covered.
With so many new and exciting food options, it might e overwhelming to figure out where to consume your Starbucks treats. Don't worry, though — I've figured it out for you. You're welcome.
1. Bare Coconut Chips: The Beach
Because these chips are so tropical, they're best consumed in either an extremely tropical environment (think, on the beach in Tahiti), or in somewhere incredibly un-tropical (like, your cubicle at work). This is a snack of extremes.
2. Omega-3 Bistro Box: A Romantic Picnic
This Bistro Box is portable, so it's the perfect snack to bring to a romantic picnic (or to stuff in your face as you rush to get to the L train after work and realize you haven't eaten all day.)
3. Teavana Shaken Iced Mango Black Tea Lemonade: On Your Front Porch
The TSIMBLT, as I like to call it, is best enjoyed while practicing my favorite sport: Porch sitting on a hot day.
4. BBQ Brisket Sandwich: A Barbecue, Of Course
Bring your own Barbecue Brisket Sandwich (aka, BYO BBQ Brisket Sandwich) to a picnic or barbecue, and relish how much better your meal is than the plebe hot dogs everyone else is eating. Yes, that was a relish pun. Deal with it.
5. Cold Brew Coffee: Everywhere. Literally.
Yesterday, we found out that Starbucks is making cold brew coffee a permanent menu item, causing iced coffee addicts everywhere to rejoice because it's so much better than regular iced coffee. Enjoy your cold brew on the way to work, or on the way home from work, or before going out to a party, or while you're watching TV... OK, just go ahead and enjoy cold brew anywhere, because coffee should be its own food group. It's delicious.
Images: Starbucks (6); Giphy