'Fargo' Season 2 Gives Us Actual Footage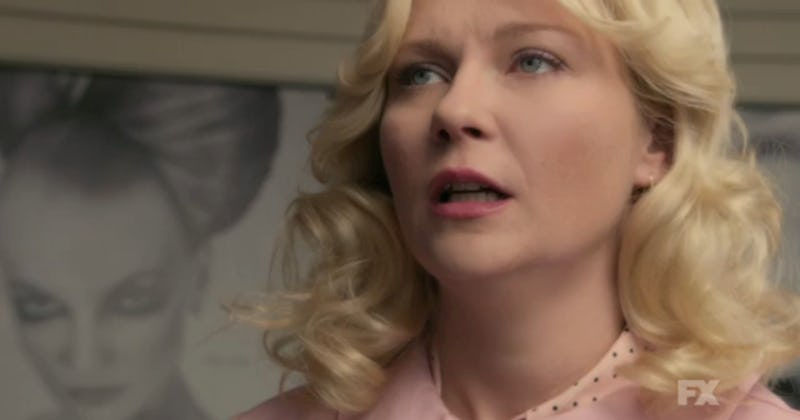 HBO's True Detective is almost halfway through its second season, but 2014's other critically-acclaimed anthology crime drama is just ramping up for its season two premiere. Although Fargo debuted in April of 2014, we won't be seeing the second iteration of this bleakly humorous show until September this year, since creator Noah Hawley wanted to take plenty of time to ensure that it would be "as good or better" than the first season. While I admire Hawley for his commitment to quality over speed, I'm tired of waiting and demand that the new season begins now, dammit! ... Not happening? Well, we'll have to make do with these two new Fargo season two teasers for now.
The first teaser for the new season dropped a few weeks ago, but it featured nothing more than cryptic shots of a woodpecker and an ice-covered lake. It was perfect for setting the tone, but didn't reveal much in terms of plot of characters. These new promos make up for that, giving us our first look at the main cast in action. They may be just as cryptic as the monotonous woodpecker, but at least we have the pleasure of hearing their funny accents and getting acclimated to this season's '70s setting.
The first of the two new teasers introduces us to Kirsten Dunst, returning to her "Minnesota Nice" roots. (She previously starred in the 1999 cult comedy Drop Dead Gorgeous, about a killer beauty pageant in small town Minnesota.) The Spider-Man actress will be playing Peggy Blomquist, a "beautician with big city dreams who is trying to figure out who she really is and what she really wants as she struggles with traditional societal expectations." She and her husband Ed (played by Jesse Plemons of Friday Night Lights and Breaking Bad) will "find themselves caught in an escalating war between a local crime gang and a major Mob syndicate."
Is that "escalating war" where the blood on her hands came from? Oh no, wait...
I see what you did there, FX. Very clever.
The second of the two teasers features both Ted Danson (Cheers) and Patrick Wilson (The Conjuring) as Sheriff Hank Larsson and his deputy Lou Solverson, respectively.
If that latter name sounds familiar, there's a good reason. Because Fargo is an anthology, none of the first season's terrific cast will be returning, sadly. The show has rewound from 2006 to 1979, and features a whole new (equally bloody) case. But there is one piece of connective tissue between the two seasons, and that's Lou Solverson, the father of season one protagonist Molly Solverson. The character was played last year by Keith Carradine, and Wilson will be tackling the younger version of the character this season.
Throughout season one, Lou made reference to a particularly nasty case he found himself embroiled in shortly after returning home from the Vietnam War. Supposedly, season two will show us what exactly went down those 27 years ago ... and what happened to Molly's mother, conspicuously absent in the first season. (Betsy Solverson will be played by How I Met Your Mother's Cristin Milioti.)
Of course, all these teasers continue to rub it in our faces that we won't get to see this surely amazing season of television for another two whole months. That's enough time to marathon the 10-episode first season another, like, six times. Well, there are worse ways to spend your time, I guess.
Images: Screengrab/FX (6)