7 Iconic Subway Ads Starring Jared Fogle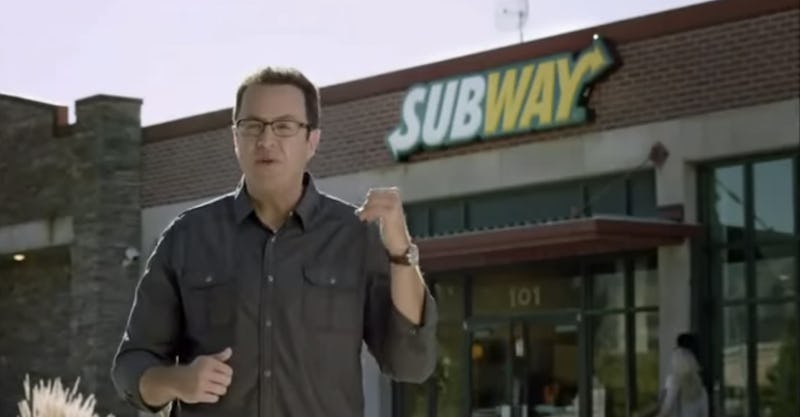 Jared Fogle, better known as the "Subway guy" from the early 2000s commercials, has parted ways with the company after federal investigators raided his house in Indiana on Tuesday for evidence in connection with a child pornography case. Fogle's lawyers assert that he has not been charged with any crime. In May, authorities arrested Russell Taylor, the former executive of Fogle's foundation, for the production of child pornography. The Jared Foundation works to combat childhood obesity.
Upon learning of Taylor's arrest, Fogle released a statement expressing his surprise at the news and announcing that his foundation had immediately severed ties with its former director. According to The Washington Post, federal investigators have refused to comment on whether or not Fogle is suspected of any illegal activity. Regardless, Subway and its most famous spokesman have decided to break up, which means the company will need to find a new face for its "build-your-own" deli-style sandwiches.
In many ways, Subway's announcement on Tuesday marked the end of an era. Fogle and Subway have made millions off of their 17-year partnership, which began after the company caught wind of Fogle's strange Subway-only diet in college – and its miraculous weight-loss results.
In 1998, Fogle was a 425-pound student at the University of Indiana who decided that he needed to make a big change. He took up a serious walking regimen and devised his own Subway diet: one six-inch turkey sub for lunch and one 12-inch veggie delight sub for dinner, every day for a year. At the end of twelve months, Fogle had lost a whopping 245 pounds, and never again had to wear his soon-to-be famous "fat jeans."
After the University of Indiana student newspaper and Men's Health picked up on Fogle's transformation, Subway executives approached him about starting a marketing campaign around his story. Fast-forward 17 years, and Fogle has filmed more than 300 commercials and made hundreds of public appearances for Subway to talk about the benefits of choosing healthy foods (like subs) over fat-filled fast food (like burgers). He is now worth more than $15 million. Fogle also possesses one of the famed Subway Black Cards, which entitles him to free food at any franchise. Fogle told Men's Health in 2013 that he still eats at the sub chain two or three times a week.
The sandwich chain has flourished too from Fogle's association. Speaking to The New York Daily News, Subway's chief marketing officer even credited the Indiana man for between one third and one half of the company's profits between 1998 and 2013 — a staggering sum when you think about the fact that Subway has more than 44,000 franchises worldwide.
It is unclear how Fogle is involved in the federal investigation into Taylor's case, or whether he too will face any charges. Also up in the air is whether Subway will join forces with him again down the road to keep fighting the good fight, one turkey sub deal at a time.
But in the meantime, here are seven highlights from Fogle's long and storied career as a Subway spokesperson on small screens across America:
1. The commercial that started it all.
How could we forget our introduction to Jared and his weight loss story? First aired in 2000, this commercial was the beast that got the ball rolling on Subway's pivot from run-of-the-mill fast food chain to a "healthy" option for Americans freaking out about their physique.
2. The one where we get let into the secret diet plan.
Jared recounts his story for the audience once again – as if we could have forgotten it, or his absurdly large pair of jeans. This time, he lets us know just what two subs he ate every day for the first year of his diet. Apparently, the meatball marinara didn't make the cut.
Sad note: In this commercial, Jared lets us know that he has been making Subway ads for a whopping 17 years. "And I hope to be doing it for the next 17 years," he tells us. Womp.
3. In this vintage throwback, we get to meet all the folks inspired by Jared.
Jared is making big waves with his diet, as Subway tells us in this commercial, which looks like it was filmed quite a few years ago. (Check out the rocking outfits.) Zoe, Sean, and Toby were all inspired to be healthier and more active after hearing about one Indiana college student's transformation. Evangelizing much?
4. Who could forget the time that Jared hung out with the Muppets?
This is a true classic, even if Jared takes a sideline role to the antics of our favorite Muppet characters. Miss Piggy orders all the veggies, and the Swedish chef appears to be having so much more fun putting her sandwich together than your usual Subway employee. And then the ad closes with a sappy pun from Miss Piggy about how she loves all things green. (Hint: Kermit gets a kiss.)
5. The time that Jared taught Michael Phelps how to make a sandwich.
This clip wasn't ever run as a TV ad per se, but the company brought the Olympic swimmer (and Subway aficionado) together with Jared for a few segments that would air on television. In this bit, Jared walks Phelps through how to make the perfect sandwich (a fully loaded foot-long, of course, to make up for all the calories that Phelps loses in the water).
6. Jared wears a puffy vest and hangs out with some park rangers.
In this rather strange ad, Jared shills a deal that Subway has running with Washington State Parks to encourage people to get outside and be active. Cue lots of images of Jared in a purple down vest standing outside in nature with his new friends, the not-always-super-sleek park rangers. 'Cause, you know, the call of the wild and Subway go so well together.
7. The unofficial Jared commercial that captures the rest of them perfectly.
South Park's clip parodying the Subway guy ad gets the gist of the rest of Jared's commercial segments quite nicely.
Images: Getty Images (3)