You Need To Watch These Movies With Your BFF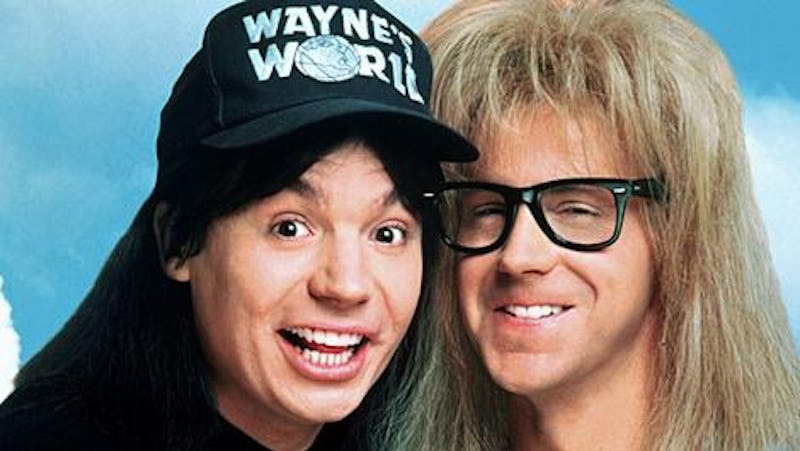 There's nothing better than movie night with your BFF. More importantly, though, there's nothing better than a friend so close that you don't need much to make it a special night — you just love each other's company so much that you look forward to even just hanging out together and doing nothing. You're the kind of friends who can accidentally stay up all night talking, and manage to make anything fun: You don't need an "epic night on the town," just each other, a movie, and maybe some wine to make it a great evening. Sure, those "epic nights on the town" are fine once in a while, but that's not sustainable for every night of the week.
Additionally, movie nights are one of the best ways BFFs can strengthen their bond. It allows you guys to stay in to catch up — and if you're in your own home, you can talk over the movie and make those silly jokes that are only hilarious to the two of you. it's great.
Here are movies with strong on-screen friendships that are fun to watch with your best friend, and might even make you guys closer — plus, some movies featuring toxic, dangerous "friendmances" that will make you guys feel relieved that you have each other instead of some of the brutal "friends" out there. There's a movie for every mood, so go on and order a pizza (or seven) and make it an epic marathon.
For When You've Just Become Best Friends: Step Brothers
You can never go wrong with a Will Ferrell movie, and this one reunites him with his Talladega Nights BFF John C. Reilly. Hilarious, and with an epic supporting cast including Adam Scott and Kathryn Hahn to boot, this is a fun one for a chill night in.
For When You're In The Mood For A Cult Classic: The Room
"YOU'RE TEARING ME APART, LISA!" This movie is the very definition of "so bad, it's good." The dialogue is so hilariously stilted that the notorious Tommy Wiseau officially states to his BFF Mark, "I'm so happy I have you as my best friend." This one will crack you up — and make you take an oath that you'd never sleep with their significant other, because it never ends well.
For When You Want to Revel In Teen Angst: The Perks of Being A Wallflower
As much as we all try to move on, a little bit of high school insecurity seems to stay with us forever, and Perks reminds us all that through friendship and trust, we can make it through.
Stream The Perks of Being A Wallflower here.
For When You're Feeling Giggly (With Or Without The Help Of Wine): Wayne's World
This Saturday Night Live spinoff is an absolute classic. Wayne and Garth are such hilarious, well-defined characters, and — like you and your BFF — are funniest when they're together. It also goes well with boozing, if you know what I mean.
For When You're In The Mood For Blood: Django Unchained
The movie is action-packed and hardcore, filled with Quentin Tarantino's classic brand of ass-kicking. Jamie Foxx and Christoph Waltz make an adorable pair, and Olivia Pope — I mean, Kerry Washington — is in it. Who can ask for anything more?
For When You're With A Group of BFFs: The Big Chill
It's in the title — The Big Chill. This '80s classic is about college friends who reunite for a friend's funeral. While that doesn't sound funny, trust me — it is! A must-see for any film fan, for Jeff Goldblum alone.
For When You Officially Feel Like Soulmates: Frances Ha
This film is a love story between friends, and adapting and supporting each other throughout whatever life brings. The indie score and cool black and white aesthetic will also help you feel super hipster.
Images: Paramount Pictures (1) Giphy (6)