Watch These Movies On Galentine's Day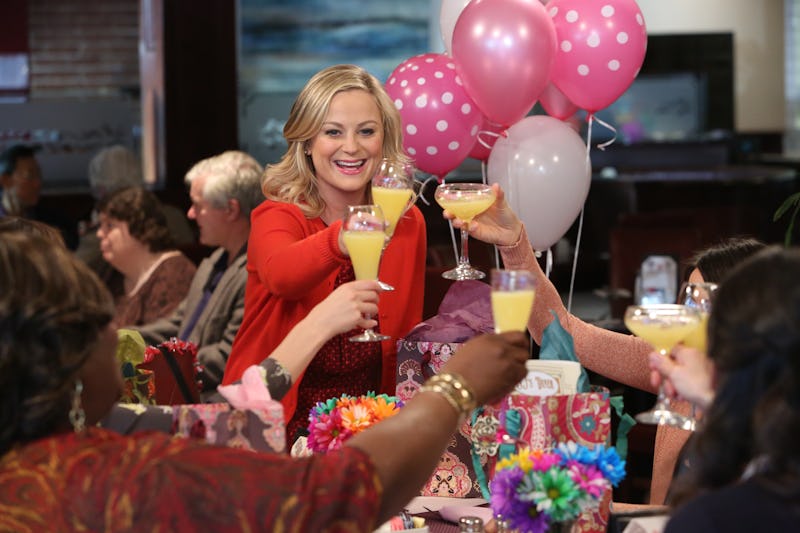 There are many wonderful gifts that Parks and Rec's Leslie Knope has given to the world over these past seven years, from the image of a smart, driven woman in power to the knowledge that a good meal isn't complete without at least one dollop of whipped cream. Yet her biggest contribution might just be Galentine's Day, the holiday she invented in which she and her best female pals spend the day of Feb. 13 together bonding, laughing, and celebrating their friendship. And, of course, eating plenty of waffles.
Like so many Parks and Rec originals, Galentine's Day has transcended the boundaries of the show and become celebrated for real, with women all over the country choosing to spend the day before Valentine's Day hanging out with their closest female friends. While every celebration is surely different, it's a safe bet to assume that many of them are including food, wine, and marathons on Netflix, staples of any functional female friendship. Sound familiar? If that's in the cards for you this special day, take a look at 11 movies available to stream on Netflix that are perfect for your Galentine's Day festivities:
Mean Girls
One of the best movies about female friendship ever, Mean Girls is a classic for the millennial generation and for Galentine's celebrators everywhere. There's pre-crazy Lindsay Lohan, Aaron Samuels, and a girl who made out with a hot dog — what's not to love?
Frances Ha
Not enough people saw Frances Ha when it came out in 2013, so it's a good thing Netflix is giving the funny, touching, and feminist movie a boost by making it available to stream. Enjoy, but be prepared to relate a bit too hard to the mid-twenties struggles of Frances and her friends.
Steel Magnolias
Oh my god, I could go on and on about how much I adore Steel Magnolias. This movie is THE BEST, and I did not know it was on Netflix before writing this article, and now all I want to do is watch it over and over again. Fact: there is no better scene in movie history than Olympia Dukakis trying to get Sally Field to slap Shirley MacLaine at the funeral. Also fact: I can't watch Steel Magnolias in front of my friends because I will undoubtedly burst into sobs and look ridiculous, but if you're stronger than me, I highly recommend you give it a shot.
Clueless
There is so much to love about Clueless, from the cast (Brittany Murphy!) to the outfits to the fact that it's still insanely quotable 20 years after its release. And, of course, there's the female friendships at the film's center, which are sweet and loyal and wonderfully feminist.
Romy and Michele's High School Reunion
Don't hate me for saying this, but: Romy and Michele's is not a great movie. It is, however, a really fun one, and perfect to watch with your close friends, especially if they're from the high school era.
Fried Green Tomatoes
Friendship! Abusive husbands! Disease! The South! Fried Green Tomatoes is just like Steel Magnolias, except not as great, but that's okay because it's still really good. Plus, Kathy Bates.
Heathers
Hopefully, your friendships are a bit healthier than those of the Heathers, but that doesn't mean you can't enjoy watching the 1988 twisted classic.
Mystic Pizza
All the romance in the movie might be a bit much for Galentine's Day (especially if you're spending the next day with Ben, Jerry, and a bottle of wine), but if you just focus on the friendship between the three leads, then it's a solid choice.
Divine Secrets of the Ya-Ya Sisterhood
Divine Secrets is crazy, and I love it. There is kidnapping and mental breakdowns and Maggie Smith drugging Sandra Bullock in order to teach her a lesson. It is magical.
13 Going on 30
13 Going on 30 is not actually about female friendship, and the main lady friendship it does show is pretty toxic, but show me a woman who doesn't like this movie and I'll show you a liar. There is never a time in which watching 13 Going on 30 is not a good idea, and if you happen to have all your friend around to do the "Thriller" dance and sing along to "Love is a Battlefield," then you're in for a good night.
Parks and Recreation
Like any Galentine's Day celebration would be complete without Parks and Rec! The show that started it all is available to watch online, so make sure to fit in a few episodes at some point during your festivities. Leslie would be honored.
Images: NBC (2); Paramount (2); IFC Films; New World Pictures; Buena Vista; Universal; TriStar Pictures; The Samuel Goldwyn Company; Warner Bros.; Columbia