Are Men Who Watch Porn More Likely To Cheat?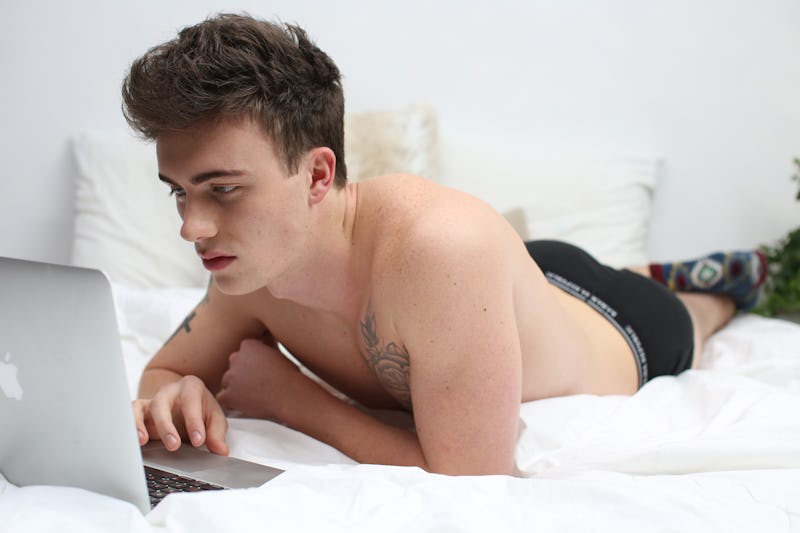 People tend to believe that if they catch their partners watching porn, it must mean that there's something wrong with their sex life, or worse, their relationship. But a new survey shows that may not be the case. In fact, it was found that married men who watch porn are less likely to cheat on their partners, while married men who don't are most likely out there doing it themselves.
Cheating website IllicitEncounters.com surveyed 1,400 of its male members on their porn viewing habits. It was found that 72 percent of men admitted to watching porn on the regular, as in one to three times per week, before they began engaging in an affair. That number dropped to 34 percent after they started having an affair. In fact, over half of the cheating males surveyed admitted that they stopped watching porn altogether since their affairs began. The survey also revealed that men were 38 percent more likely to watch porn if they were in a committed relationship.
A good majority of the married men, as in 84 percent, said they would not watch porn with their wives, however, 64 percent of them would happily watch porn with their mistresses. In general, 68 percent of participants said they kept their porn watching habits from their spouse.
"People are pleasure-seeking creatures, we're never truly content or satisfied, we're always seeking more – naturally when a man is no longer finding sexual satisfaction in their significant other they may attempt to feed their sexual appetite elsewhere," Claire Page of IllicitEncounters.com said. "What infidelity does is creates a sense of newness and defeats the point of watching porn, that is, until the novelty wears off. Porn is of course very stimulating, but so are new and exciting sexual partners."
Right. Because it's so difficult for one to feed their sexual appetite with their long-term partner. But alas, porn is porn, cheaters are going to cheat, and the faithful will (hopefully!) remain faithful.
According to data collected by porn website, Paint Bottle, in 2013, porn sites get more visitors than Netflix, Amazon, and Twitter in a month. Furthermore, around 70 percent of men and 30 percent of women watch porn, and that number has been found to rapidly increase every week. Because pornography is now, and has been, such a big part of our culture, here are 3 ways porn has been known to affect your relationship, according to good ol' science.
1. Porn makes you less appreciative of your partner
In a 2012 study published in the Journal of Social and Clinical Psychology, Nathaniel M. Lambert of Florida State University and colleagues dug through previous data and studies to examine how the consumption of pornography can affect romantic relationships. Just as you would expect, it wasn't a good thing. One of their findings, in particular, found that people who watched porn regularly reported to being less satisfied with their partner's appearance and sexual behavior. It was even found that women whose committed partners watched porn led to a decrease in the amount of real-life sex they had. The men were even found to be "more dominating and less attentive" toward their partners, which obviously led to commitment issues in the relationship.
2. More porn leads to less commitment
In the same study done by Lambert and colleagues, it was found that watching porn made people in committed relationships realize all the sexual partners that they're missing out there in the world. The study asked participants between the ages of 17 to 26, who were in relationships ranging from two months to about three years, about their porn usage and levels of commitment. They found that porn viewing lowered commitment levels in both men and women. Another study they conducted had a group of porn users give up porn for three weeks, while another group was asked to give up their favorite food while still being allowed to watch porn. After the three weeks were up, it was found that those who abstained from porn showed an increase in the commitment they had in their relationship, compared with those who just gave up their favorite foods.
3. Less porn, less infidelity
Amanda Maddox and her colleagues investigated the relationship between viewing sexually explicit material and romantic relationships in a 2011 study published in the Archives of Sexual Behavior. Looking at a random sample of 1291 unmarried people aged 18 to 34 in romantic relationships, Maddox and colleagues found that about 77 percent of men and 35 percent of women looked at porn alone, while 45 percent reported to watching it with their partners. People who didn't watch any porn at all had lower levels of negative communication with their partners, were more committed to their relationships, and had higher levels sexual satisfaction. Furthermore, the rate of infidelity among those who didn't watch porn was more than half of those who watched porn alone and with their partners. On the other hand, those who watched porn with their partners were found to be more committed to their relationships and more sexually satisfied than those who decided to go at it alone.
Images: Bustle Stock Photo; Giphy(4)