How To Keep Hair Straight In Humid Weather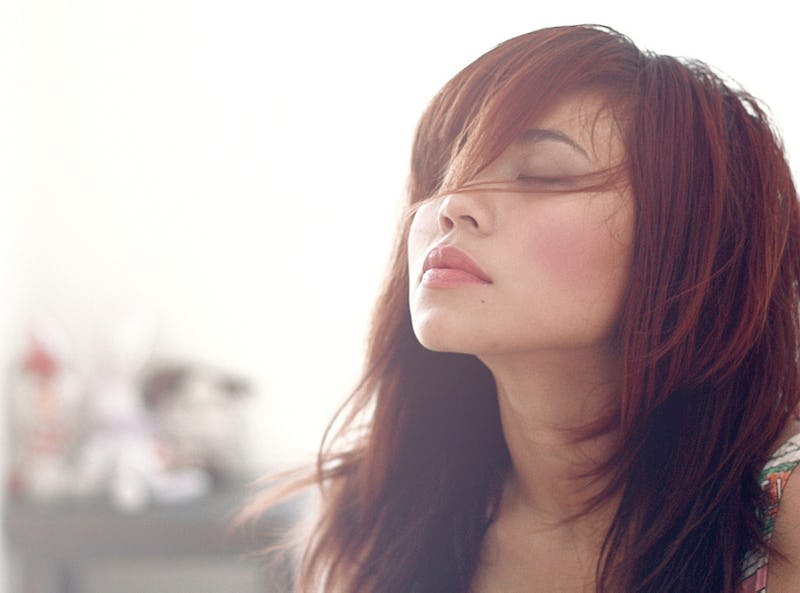 You love the straight hair look, but have been battling humidity to keep your style sleek during the summer months. With just a few simple tips on how to keep hair straight in humid weather, you can defy nature and showcase that perfect balayage color despite the moisture floating in the air. Because let's face it, if you are committed to a pin straight style even during the muggy summer months, we know it's important to you.
Why all the hair drama when air is humid? Science, that's why. According to Smithsonian Magazine, "humid air causes hydrogen bonds to form between water molecules and the proteins in your hair, triggering curls and frizz." Basically, straightened hair in a muggy climate is a battle with Mother Nature herself. Not that it's impossible. It just requires a bit more effort than say, a ponytail.
There are various approaches to the straight hair style. If you prefer to avoid hot tools, scope these five steps to straighten hair without heat. You can experiment with longer-term straightening treatments that fight humidity. Or you can read along for super-humid-sweaty-summer-straight hair secrets.
1. Shower with the best of them
Bumble and Bumble Straight Shampoo, $26, Amazon
Your sleek look begins in the shower. Use straightening shampoo and conditioner to moisturize and tame hair. Look for products that will fight frizz, smooth hair, deep condition, and provide protein (this smoothes the hair shaft).
2. Dry every strand of your hair
Unless you have dried every drop of moisture from your hair, your straight strands will spring into curl mode when you step into the humidity. Remember our science-y Smithsonian tidbit above? If your hair has any dampness, that water will act as a humectant, attracting more water. Start with the dice loaded in your favor and you can even survive the beach!
3. Cool down your hair after using hot tools
After you complete the finishing touch with your flat iron or blowdryer, don't rush out the door. Allow your hair to cool completely before hitting the hot streets. The hair will set and hold better once it has cooled into place.
4. Employ important stay-straight strategies
If you are flat ironing your hair, consider washing the night before and finger combing to dry. This will ensure your hair is completely dry the morning of. Then perform touch ups as needed with the flat iron. You'll save time and heat damage risk by skipping the hairdryer.
If blowdrying, always blow down the shaft, to keep ends smooth and fight frizz. Not only does it look better, it allows your nemesis (humidity) fewer flyways to infiltrate.
5. Use superior hair spray
Garnier Sleek and Shine Anti-Humidity Hair Spray, $3, Amazon
Use an anti-frizz holding spray to keep your masterpiece tamed. Find an earth-friendly aerosol version as pump sprays will shoot wet streams into the straight hair you just worked so hard to dry. No need to defeat the purpose before you're out the door!
6. Be forgiving to your hair
No matter how fabulous you are at fighting frizz, some days weather is going to win. If you have your heart set on straight hair for a certain event, check the weather ahead of time to ensure that a tropical storm isn't blowing through town. If so, maybe consider an undo.
Images: Helga Weber/Flickr; Instagram (3), Product pages (2)