13 Little-Known 'Mrs. Doubtfire' Facts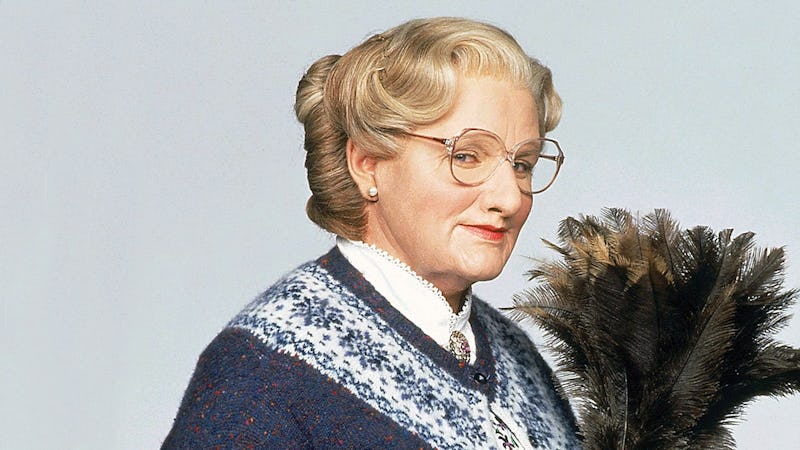 If you can get over how creepy the plot actually is, Mrs. Doubtfire is one hell of a good time. And it's been 20 years since Robin Williams has played the now iconic role of the cross-dressing nanny — burning his rubber fat suit on open flames, chucking fruit at the back of Pierce Brosnan's head, and prompting the dialogue "he's a he-she!". To celebrate one of our favorite of Williams' roles, here's 13 facts you might not of known about the classic comedy.
1. There is going to be a Mrs. Doubtfire 2 ! And Robin Williams is set to star.
2. Robin Williams is infamous for his improv, so director Chris Columbus told him not to hold back. That being said, many of Williams' improvisational rants were laden with pop culture references, a problem because the studio had to get approval to use lines such as the scene where Daniel refers to his wife's clothes as "this lovely Dances with Wolves motif".
3. Speaking of improvising, the hilarious scene where Mrs. Sellner comes to inspect Daniel's apartment and Daniel sticks his head in the cake, was improvised, due to the fact that the heat from the camera lights was melting the frosting off his face.
4. The author of Mrs. Doubtfire, Anne Fine, originally wanted Warren Beatty to play the cross-dressing Nanny because of his infamous reputation as a womanizer.
5. Blake Lively auditioned for the role of Natalie Hillard when she was five, but lost out to Mara Wilson in the end.
6. The address given over the phone to Mrs. Doubtfire, 2640 Steiner St., is the real location of the Victorian San Francisco home.
7. When his dentures fall into the wine glass at dinner, Robin Williams says, "Carpe Dentum... seize the teeth." This is a reference to his film, Dead Poets Society , where he constantly says, "Carpe Diem... seize the day."
8. Robin Williams' transformation into the cross-dressing nanny took about 4.5 hours. You can watch the transformation here.
9. Tim Allen was offered the lead role, as well as the role of Stu, but turned down both!
10. Similar to her character, Sally Field was going through a divorce with producer Alan Greisman while filming.
11. Because Williams was constantly going off script, apparently there were several versions of the film cut: PG-13, R, and even an NC-17 version (50 Shades of Williams, anyone?)
12. Mrs. Doubtfire asks Stu where he's from. Although he claims to be from London, in real life, Pierce Brosnan is Irish.
13. Ironically, Robin Williams divorced his wife to marry his nanny. In the film, he's going through a divorce, and becomes the nanny.
Images: 20th Century Fox; newnownext; giphy.com; Tumblr (3)