Hannibal Buress Takes On Racial Unrest Issues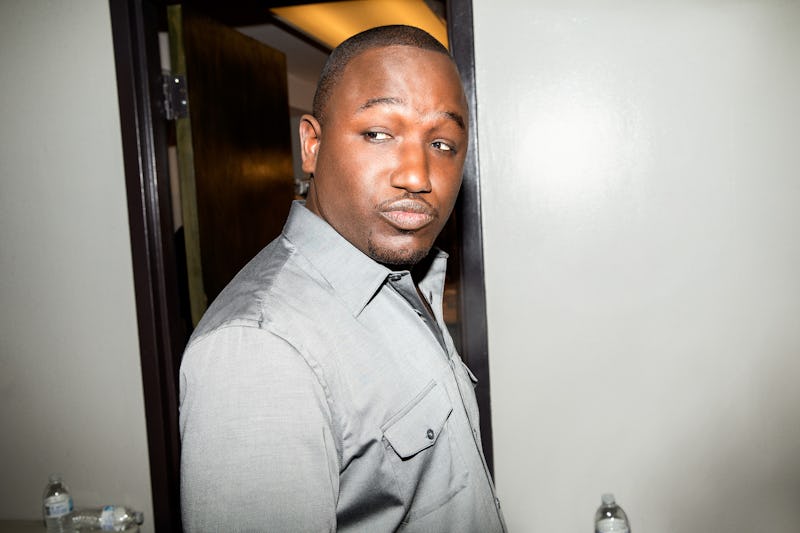 He's hilarious on Broad City, he's well-known for his commentary about Bill Cosby, and now he's got his own show on Comedy Central. Hannibal Buress' new series, aptly titled Why? With Hannibal Buress , sees Buress doing... well... basically whatever the heck he wants, honestly. The comedian talks about issues he wants to talk about, randomly invites guest stars to do funny bits on the show, and occasionally has mini sketches, all of which work well as the series progresses (the first episode was a little shaky, but had a lot of potential). The one thing that Buress did really well on the show was bringing up the highly relevant issue of racial tension using the "I don't answer questions" police videos.
Throughout the show, Buress found ways to bring up the topic in clever and poignant ways. The most obvious was when Buress told the audience about the videos involving the man who records his conversations with police officers and always responds with "I don't answer questions" to anything the police officers say. Buress tells his viewers in the studio and watching at home that he's decided to try this tactic as well. Of course, things don't work out as well for him in the sketch.
Buress tries the tactic twice. The first time, a police officer pulls him over and asks him if he knew how fast he was going. Buress responds with his mandated script. And, immediately, the cop goes for his gun and shoots the comedian through the window. The scene cuts back to Buress onstage saying he's lucky the cop had such bad aim and that he came out unscathed. He then says that the officer didn't get away without punishment however, he was suspended for two weeks... with pay.
The second time Buress tries the tactic, the police officer asks him if he thinks he's such a big shot that he can't answer questions? When Buress says once again the he "doesn't answer questions," the officer calls in a code 001, comments about how he loves Broad City but he's got a job to do. Then he runs away as a drone strikes on Buress' car, bringing up yet another issue up for debate in this country. I have to hand it to the comedian, this is definitely a strong way to get his name and his show on the map as someone willing to actually talk about real issues in clever and funny ways. Pairing with Key & Peele is definitely the right way to go. I've got high hopes for Buress, and his show. It's sure to make a lasting and important impact.
Images: Jason Nocito, Mark Davis/Comedy Central