New 'Sherlock' Photo Gets Very Victorian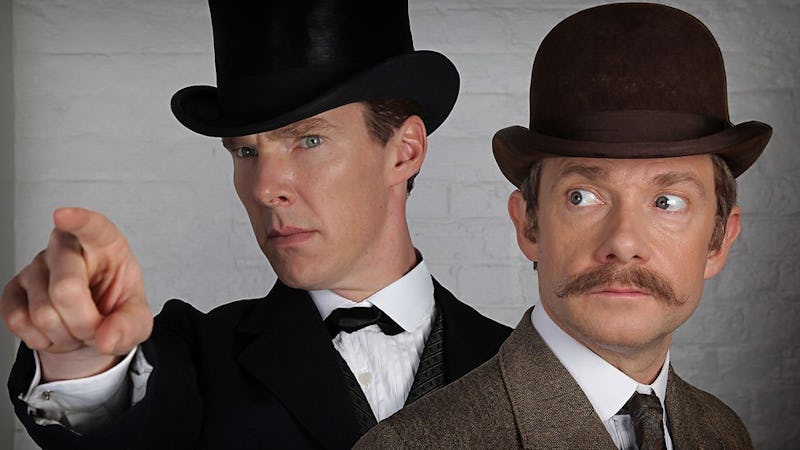 Alas, Sherlockians! The return is nigh! The show that first launched the Cumberbitches — and many a homoerotic fantasy — will be returning for a Christmas special this winter. In fact, BBC released a special Sherlock promo photo featuring our favorite detectives in full Victorian-era garb, and it is fabulous. It is particularly exciting because, as the show went on, both Benedict Cumberbatch and Martin Freeman have become increasingly popular in Hollywood projects. Cumberbatch was recently nominated for an Oscar for The Imitation Game, and is currently working on Marvel's Doctor Strange (and not to forget, raising a newborn son). Meanwhile, Martin Freeman is filming a mystery role in Captain America: Civil War, and just wrapped up The Hobbit trilogy. The fact that the BBC managed to bring them together, despite their busy schedules, truly is a Christmas miracle.
Sherlock and Watson are going back in time — their original time, to be exact. The Christmas Special will be a standalone episode, taking place in the Victorian era, the original period in which Arthur Conan Doyle's novels were both written and set. This past January, fans spotted the super sleuth out on the town, looking debonair, adorned in period frock. Cumberbatch was sporting the iconic cap, and a caped coat. Freeman's Watson was wearing a bowler hat and and a bushy mustache, something only he could pull off. BBC released the first official image back in November, and the one released on Thursday is even better.
Sherlock looks dapper on what could be the Iron Throne, and Watson looks adorable and goofy with his elbow sticking out, in typical Watson fashion. While nothing has been announced about the plot yet, using Sherlock's famous technique, The Science of Deduction, here's what the photo can tell us about the new special.
1. It Could Be A Close Adaptation of One of the Novels
Sherlock, perhaps more than any other show, has honored its source material by punning on the books' titles. Whereas Doyle named books The Hound of Baskervilles and His Last Bow, Sherlock has episodes "The Hounds of Baskerville" and "His Last Vow." The special might be setting the show in its original period as an opportunity to adapt a novel closely, using the cast's particular talents and charm.
2. The Power Dynamics Will Be the Same
Whether it's the 21st century or the 19th, Sherlock is the intense genius, and Watson is the O.G. sidekick. Freeman looks adorably dopey in the picture.
3. The Show's Sense of Humor Will Be In Tact
See: Freeman's dopeyness! What makes the BBC adaptation so special isn't just its brilliant, astute mysteries but also its use of humor. The comedic chemistry between Cumberbatch and Freeman looks like it will be maintained for the 19th century, and it also seems like the show will maintain its sensibility despite the old-school style.
Images: BBC; Giphy (3)