Are Athletes In Comedies The Latest Trend?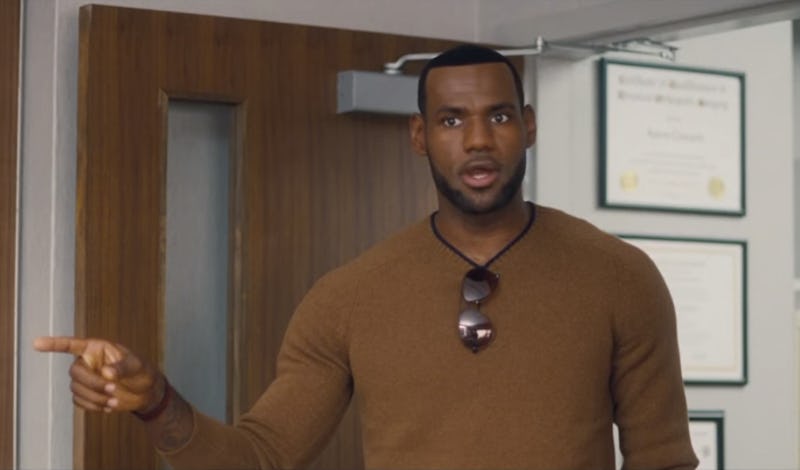 Cameos have long been a trend in movies, particularly comedies, where the element of surprise always contributes to a laugh. Instead of actors playing themselves in movies, however, the latest cameo trend is athletes appearing on screen. Sports and movies are two huge elements of popular culture, but they hardly ever intersect — except in this summer's big blockbusters. The athlete cameos in movies that have been coming out in summer 2015 might just be a coincidence, but it is certainly indicative of the beginning of a trend.
For example, we have the likes of the Green Bay Packers appearing in Pitch Perfect 2, and LeBron James joining Amy Schumer's Trainwreck as sports doctor Bill Hader's best friend. It's a comedic goldmine. Regardless of how they deliver the jokes, there's the inherent pleasure of seeing an athlete outside of their element and playing against type. Peyton Manning and Charles Barkley were not particularly the best sketch comedians, but seeing them challenge themselves as Saturday Night Live hosts made theirs successful episodes. There are already rumors flying around that LeBron James can be the next Dwayne "The Rock" Johnson, crossing over from sports to films.
With the success of Trainwreck and Pitch Perfect 2, Here's why athlete cameos need to be a trend going forward.
1. It Helps Both The Movie and The Athlete's Career
Cameos contribute to their respective films' hilarity, but that's not the only reason it's so great to see so many athletes popping up in summer films. It's a mutually beneficial trend; athletes get to raise their profile, and kind of humanize themselves in the process, and we get to see our favorite sports figures have some fun.
2. Sports Culture is Brewing With Jokes
LeBron's return to the Cleveland Cavaliers after years on the Miami Heat was a huge deal, and made a lot of people in Florida very mad. Riffing on this scandal, and talking Cleveland versus Miami, was bound to happen.
3. Many Athletes Are Hilarious
Wrestler John Cena also appears in Trainwreck, as fling of Amy's, hilariously failing at dirty talk when all he needs to get off is picturing himself at the gym. Both LeBron and John prove that their contributions to the film's funniness is not just the novelty of seeing athletes appear, but that they have great comedic timing. John's delivery of this Mark Wahlberg joke is on point.
4. Athletes Have Hidden Talents Waiting to Be Shared With the World
Pitch Perfect 2 raised the stakes with their cameos by having a whole gaggle of Green Bay Packers, and by having them SING. Yes, the 2010 Super Bowl champions perform a capella, including a beautiful rendition of "Bootylicious." I don't think you can handle this. I don't even think any of us knew it was a thing we might have to handle until this moment.
5. Athletes Bring Bros Into Female-Fronted Movies
There are many unfortunate guys out there who are not interested in seeing a movie starring a woman. The presence of a Superbowl or Heisman Trophy winner can help bring in the guys, who once there, will learn how funny women are, and how stupid they were being.
Whether these are the last athlete cameos we'll see this summer, or the beginning of an epic new trend that makes the crossover appeal of sports and films even bigger, still remains to be seen. However, there is one thing for sure: no one can say that athletes can't be hilarious.
Images: Universal Pictures; Giphy (2)