Who Will Die In Season 6 Of 'Game of Thrones'?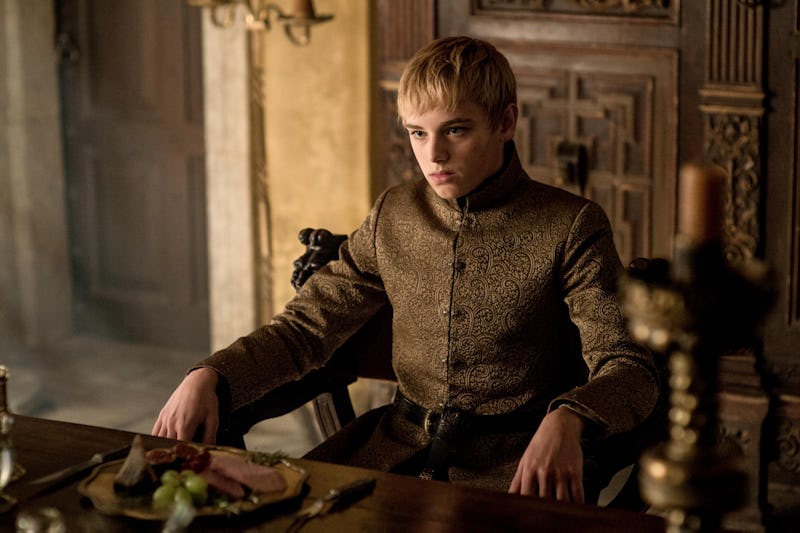 If there is one thing that Game of Thrones is known for, it's death. Though the show has a huge ensemble cast, there have still been 61 deaths since it premiered five years ago. Sixty-one is a huge number of characters, and most of them have perished in unimaginable ways. If you are not someone who can handle dealing with a lot of blood, then GoT is certainly not the show for you. Aside from the gore, it's probably not a wise idea to get attached to any of the characters. If Ned Stark's beheading at the end of the first season wasn't enough, the "Red Wedding" from Season 3 certainly taught me how to guard my heart. But who will die in Game of Thrones Season 6?
In the past, Game of Thrones lovers have been able to refer to George R.R. Martin's A Song of Ice and Fire books in order to get some indication of what might be to come. At the end of Season 5, the series caught up to the last published book, and the sixth installment of the saga, Winds of Winter, still isn't out yet. This means that showrunners D.B. Weiss and David Benioff can sort of go rogue with the sixth season. Still, don't let that lead you into despair. HBO has contracts with all of the actors who star in GoT, and, in those contracts, we can find some answers.
According to The Hollywood Reporter, the actors that have signed on through a possible seventh season are Kit Harrington (Jon Snow), Peter Dinklage (Tyrion Lannister), Lena Headey (Cersei Lannister), Emilia Clarke (Daenerys Targaryen), Natalie Dormer (Margaery Tyrell), Sophie Turner (Sansa Stark), Maisie Williams (Arya Stark), and Nikolaj Coster-Waldau (Jamie Lannister). We can assume these characters are safe... kind of. However, everyone else's fate is pretty much up in the air. Here is who may die in Season 6 of Game of Thrones.
Jon Snow
Well, he won't die again but he may very well stay dead... for now. Harrington might have renewed his contract, but that doesn't mean he'll show up in Season 6. It's also possible that he's only contracted to appear in visions and flashbacks — even though Thrones has yet to utilize that storytelling device in five seasons. Or maybe, just maybe, he's coming back in some version of the afterlife:
Lord Varys
Next to Littlefinger, Varys is probably one of the sneakiest characters on GoT. If you noticed, during the season finale, Varys showed up in Meereen out of nowhere. I'm personally convinced that he had something to do with the Sons of the Harpy attack on Dany. If this is the case, then Lord Varys' days are numbered. And, though we don't have confirmation about the details of actor Conleth Hill's contract, his IMDB is brimming with other upcoming projects...
Tommen Baratheon
In the episode "Winter is Coming," a young Cersei Lannister encountered Maggy the Frog, who told her that she would one day be queen. She also told Cersei in a prophecy that her children would be doomed. She said, "Gold shall be their crowns and gold their shrouds." If King Tommen's absence and cowardice in his wife and mother's imprisonment is any indication, he's doomed.
Ellaria Sand
By poisoning Myrcella, Ellaria may have forced Doran Martell into a war with the Lannisters. If her plot is discovered by the leader of Dorne, then her days will surely be numbered.
Of course, this is Game of Thrones. Anyone can die at any time, no matter how attached you are to them or how central they seem to the plot. Anything goes in Westeros.
Images: Helen Sloan/HBO (2); Giphy (4)