Who's The New Tessa On 'Masters of Sex'?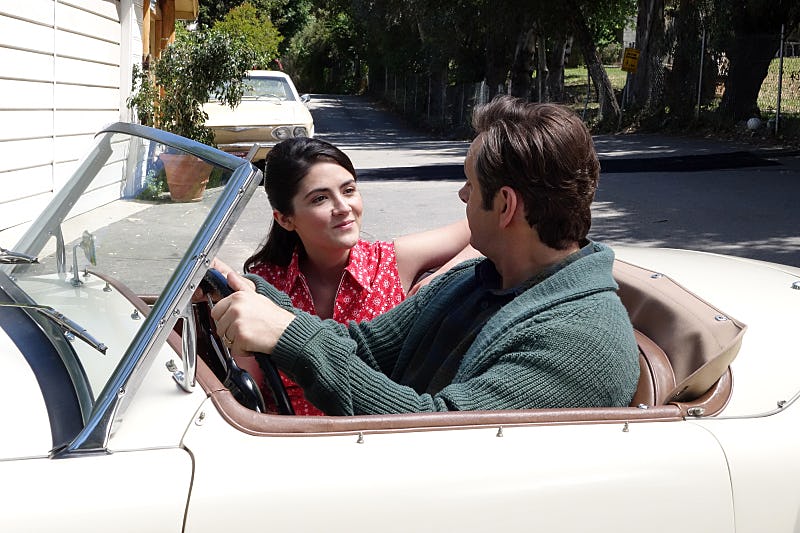 Masters of Sex returns to Showtime on Sunday and both Masters and Johnson are back at it in more ways than one. However the season premiere takes place five years after the series left off, most notably by the fact that the pair have now published their book and Virginia Johnson's children are now teenagers. Who plays Tessa Johnson now on Masters of Sex?
Other cast members joining the Showtime series for Season 3 include a gynecologist played by Maggie Grace from Lost and Taken, Josh Charles fresh off of The Good Wife, as well as Emily Kinney from The Walking Dead as a participant named Nora.
As for Tessa, actress Isabelle Fuhrman may not seem scary as Lizzy Caplan's reckless teenage daughter, but I guarantee she's frightened you before. The young performer has a reputation for playing particularly aggressive roles, which makes her turn as a girl in the mid-1960s with a very complicated family life all the more exciting. Can you imagine going through puberty while your mom (and her pretty obvious lover) are top sex researchers? I'm ready to slam my bedroom door just thinking about it. However, it may take a second to place the new actress playing Tessa in the Season 3 premiere, especially in a period piece that's often funny. Here's where you've definitely seen Isabelle Fuhrman before.
Orphan
The now 18 year-old actress played the title role, also known as Esther. The horror movie solidified her ability to play both horrifying and wise beyond her years.
The Hunger Games
Thanks for the knife! One of my favorite career tributes, Clove, is played by Isabelle Furhman. She's got Jasmine hair and a ruthless thirst to kill. The actress originally auditioned for Katniss, which makes a lot of sense — Clove is definitely a warped mirror image of what Katniss could have been if she grew up in another District.
The Between
She also starred in this independent supernatural film about two siblings who encounter ghosts and other creatures in the woods. By the looks of the trailer, I'm pretty sure this was filmed in the same woods as The Hunger Games, though it's an entirely different kind of world.
...and More!
One of Isabelle Furhman's first roles was as Grasshopper in the film Hounddog alongside Dakota Fanning (seen above). She also appeared in several sketches on The Tonight Show With Jay Leno, trained in Shakespeare at the Royal Academy of Dramatic Art in London, and has voiced several characters in children's animated shows and video games. Isabelle Fuhrman has been working steadily for a while, and her Masters of Sex role is just another rung on her ladder.
Images: Michael Desmond/SHOWTIME; Giphy (2)