Where To Buy The Shoes From THAT Viral Photo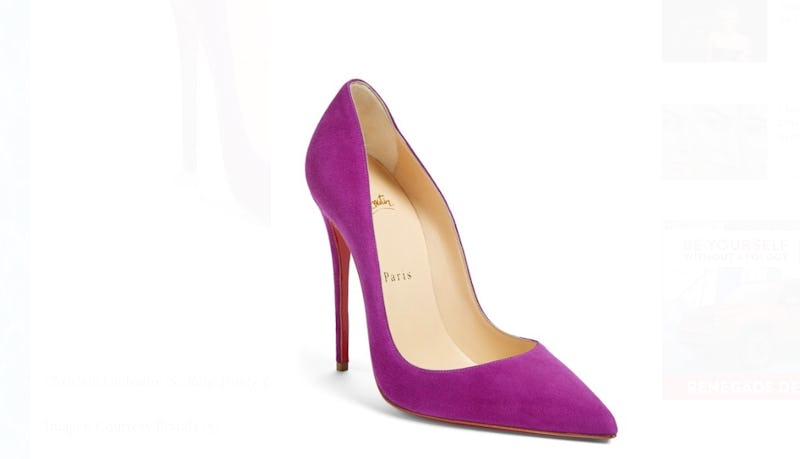 I remember exactly where I was when I first saw "The Dress," and whether you choose to admit it or not, you probably do too. It was everywhere, it was confusing, and it blew all of our collective minds. But just in case you were, I don't know, in a underground, disconnected bomb shelter for the last few months or something, there's a new confusing viral sensation now. When a Twitter user posted a photo asking which nail polish goes with a purple pair of pumps, the Internet promptly freaked out. And while I, personally, am still unsure of which shade of nail polish matches (it hurts my brain to think about it for too long), let's get to the important question here: Where can you buy the shoes featured in the photo?
From the looks of the original post, you can only really see about 40 percent of the actual shoe so, there's not a lot to go off of in terms of the definite designer. Luckily, the original Twitter user posted where you can buy the magenta pumps. And why not buy a pair to be part of some viral Internet history, am I right? Oh, don't act so high and mighty, guys; I know some of you own a Grumpy Cat stuffed animal or something.
The tweet that started it all:
Craving some magenta pumps now? Or are they purple? Pink? OK, let's not go there right now. In any case, I've got you covered with some similar options below.
1. The Original
BCBG Paris Jaze Suede Pump, $59.95, dsw.com
2. Patent
Jessica Simpson Claudette Pump, $47.40, belk.com
3. Sequined
Badgley Mishcka Pumps, $99.99, saksofff5th.com
4. Simple
Via Spiga Carola Pointed-Toe Pumps, $195, dillards.com
5. Strappy
Davos By Madison Pumps, $54.95, shoedazzle.com
6. Pricey
Christian Louboutin 'So Kate' Pointy Toe Suede Pump, $695, shop.nordstrom.com
Images: Courtesy Brands (5)