Will 'Masters Of Sex' Show The Masters' Divorce?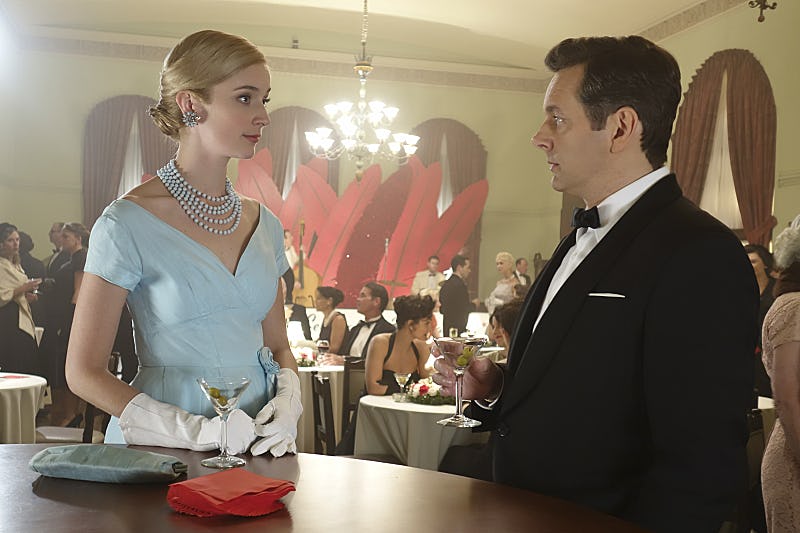 Though Masters of Sex is based on history (much of the show is adapted from Thomas Maier's biography about the sexologist duo), we know it's played fast and loose with the facts. The actual dates act as more of a scaffolding than something set in stone, and the showrunners have taken some pretty notable liberties with the characters themselves (for example, Masters was purportedly quite charming, as opposed to Michael Sheen's spot-on glacially tortured turn as the sex research pioneer). That said, there are some pretty notable life events with hard and fast dates — such as the eventual divorce between Bill and Libby Masters, as described by The Daily Beast, that we all know is coming someday. In fact, we've basically been waiting for it since the pilot (seriously, no one wins in that relationship), so many have been wondering for a while now: Will Libby finally up and leave? Will Season 3 be the year that the Masters call it quits?
It seems like it must be happening soon, right? After all, the end of Season 2 revealed that Libby knew about Bill and Virginia's side research almost the whole time they were, uh, conducting it — and she stepped out on the marriage with her own affair with civil rights activist Robert Franklin. Besides, who knows what could happen as we hurtle forward in history a good 5-odd years? While the first two seasons stayed firmly rooted in the late 1950s and early 1960s, it's making its first major leap forward for Season 3.
Masters of Sex will be jumping all the way to 1966 (aka the year the scientific research team first published their findings). America's attitude towards sexuality and divorce slowly started to loosen up in the years ramping up to the 1970s — so a split in the near future really only makes sense.
Unfortunately for those of us pulling for a divorce for the unhappy couple, it's not quite in the cards yet — if we're going by real life, that is. William and Libby Masters did not, in fact, get a divorce until 1971 (quite staggeringly over a decade after Bill commenced his research with Virginia). Plus, most of the early reviews for the July 12 premiere episode, including one from the New York Times, make note of the fact that Libby has seemingly "made her peace" with the whole extramarital affair deal.
Apparently, they're at a comfort level where it's acceptable for the three of them to vacation together with their four children. Oh, and let me add another layer of disappointment in — according to The Daily Beast, it was Bill who left Libby, not the other way around, and he almost immediately married Gini.
With all that in mind, it's unlikely that we'll get there this season — because another time jump all the way to the year of the Masters' divorce doesn't make sense this time around. After all, Season 3 is supposed to cover the publishing of Masters and Johnson's seminal study — and the subsequent madness/rapid ascent to worldwide renown. As showrunner Michelle Ashford pointed out in an interview with Entertainment Weekly, "... once they become famous their lives went just cuckoo. They were out in LA with Hugh Hefner and all sorts of crazy stuff. You want to get to that stuff too." No way we're skipping out on Bill and Gini hanging out at the Playboy Mansion, right?
So Masters of Sex fans, it looks like it will be at least another year before we bear witness to the Masters getting divorced. It'll be painful, sure, but I think we can all agree that Michael Sheen, Lizzy Caplan, and Caitlin FitzGerald will do some seriously awards-worthy work with the subject matter.
Images: Michael Desmond/SHOWTIME (3)