5 Slurpee Hacks To Celebrate Free Slurpee Day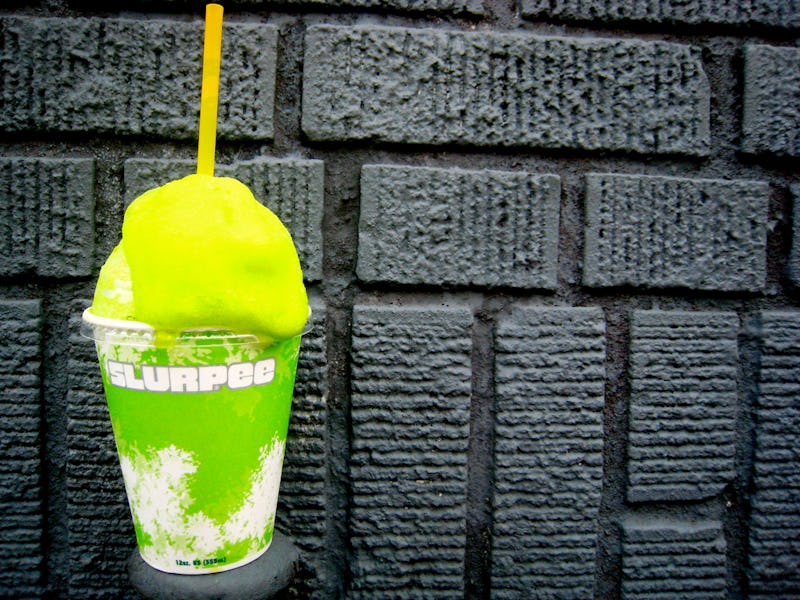 Tomorrow is a big day for many Americans. It's a day of forgiveness, a day to reflect, and a day for us all to count our blessings. That's right: Tomorrow is July 11, also known as 7/11, also know as Free Slurpee Day 2015. Obviously this calls for a bunch of awesome Slurpee hacks so we can make the most of the occasion, and lucky you, I'm happy to oblige.
Because the world is secretly a beautiful place, the chain convenience store 7/11 celebrates its birthday every year on July 11 by giving away free Slurpees. Just think about that for a second: It celebrates its own birthday... by giving other people gifts. If that's not the true meaning of altruism, then I don't know what is. This is what Mother Theresa and Gandhi were talking about, guys.
For those of you who aren't familiar with the onomatopoeic sugary perfection that is a Slurpee, it's an icy, frozen beverage spiked with strong fruity or soda-flavored syrups. They come in bright colors and are only consumable in outrageously large cups. They're probably terrible for you (I'm really not trying to find out what exactly is in a Slurpee) but they're delicious, and tomorrow, they're free. Go get yourself a Slurpee.
Some of us are better versed in the art of the Slurpee than others, though. Not all Slurpee consumers are created equal. How do you make sure that you're getting the most out of your Slurpee? How do you demonstrate that you're on your game and not some kind of Slurpee newb? Check out these five Slurpee hacks so you can really celebrate Free Slurpee Day in a meaningful way tomorrow.
1. Mix Flavors
Everyone knows this one, but you don't just get one flavor of Slurpee. Try mixing cherry and Coke, or blue raspberry and cherry. Pro tip: Don't mix more than two flavors together: it'll just become a sugary mess with no discernible taste.
2. Freeze It
If you don't want to drink your Slurpee right away, stick it in the freezer for a few hours. It'll develop a crunchier texture that's better suited to being eaten with a spoon than sucked up through a straw.
3. Spike It
Take your Slurpee home (or at least take it somewhere out of sight of children) and pour a couple ounces of vodka in it. Suddenly you have an icy, tropical cocktail.
4. Sip Slow
This isn't a hack so much as a warning: Slurpees are absolutely the best way to develop serious brain freeze. Suck slowly to avoid potential Slurpee brain.
5. Utilize the Spoon Part of the Straw
Look carefully at the bottom of the straw they give you: it's open like a spoon. Utilize the base of the spoon to get at the icier bits of your Slurpee.
May your Saturday be full of Slurpees and delicious, everyone.
Images: Adam Kuban/Flickr; Slurpee/ Facebook (5)