16 Songs Guaranteed To Brighten Your Day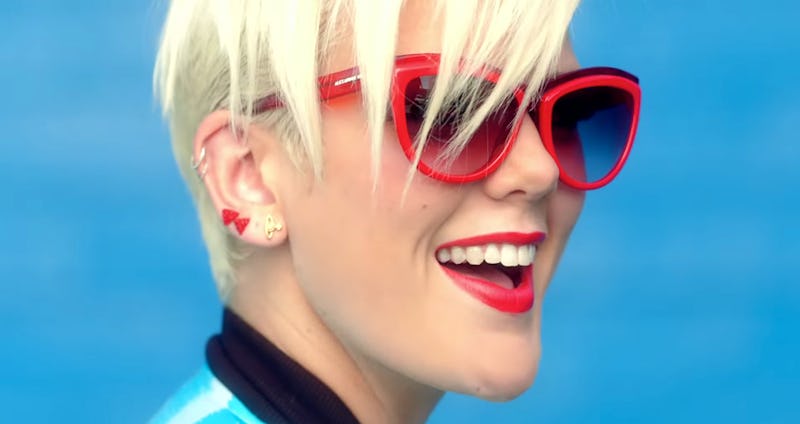 Did you get up on the wrong side of the bed this morning? Don't despair: I've rounded up a bunch of awesome pop songs that will make you feel better. You see, I'm a firm believer that listening to music can significantly improve your mood — even if your day got off to a rocky start and you're worried you might throttle the next person who looks at you funny. Trust me, we've all been there. Sometimes, coffee is the answer — just keep drinking cup after cup until your troubles have miraculously melted away! (But please, be careful of your heart.) Other times, you need something a little more powerful than caffeine to put you on a positive path. Music can't make your morning commute shorter or your co-workers less annoying (sorry about that) — but it can brighten your outlook a bit.
So, the next time you're feeling like you'd rather hide under your comforter and snooze than face the day ahead, try taking a few deep, cleansing breaths and listening to some upbeat tunes on your iPod. Who knows? It could help turn things around.
Here are 16 fun, feel-good pop songs that are practically guaranteed to brighten your day:
Selena Gomez — "Music Feels Better"
I can't get enough of this song.
Jump5 — "All I Can Do"
This is one of my go-to tracks when I'm feeling down.
Betty Who — "Somebody Loves You"
Now that's a feel-good pop tune!
Matisyahu — "Live Like A Warrior"
Love it.
Katrina & The Waves — "Walking On Sunshine"
An oldie, but a goodie.
Hoku — "Perfect Day"
Shout out to the Legally Blonde soundtrack for bringing this masterpiece into my life.
Heather Small — "Proud"
"What have you done today to make you feel proud?" is such a great line.
Glee Cast — "Loser Like Me"
Sure, it's a little cheesy — but a little cheese never hurt anybody!
Nicki Minaj — "Masquerade"
One of my favorites from Nicki Minaj's Pink Friday: Roman Reloaded album.
Michelle Chamuel — "Rock It"
"Rock It" never fails to pick me up.
Bridgit Mendler — "Ready Or Not"
It's so catchy.
Ryan Tedder — "DJ Is My Lover"
The hook is massive!
Whitney Houston — "Million Dollar Bill" (Freemasons Radio Edit)
This one will make you want to dance.
Kelly Rowland — "Like This" (Feat. Eve)
A seriously underrated (and seriously infectious) gem from Kelly Rowland.
ISA — "Drum & Bass"
We could all probably use a little more Swedish pop in our lives, right?
Lesley Gore — "Sunshine, Lollipops And Rainbows"
This isn't a joke — just try to listen to this song without cracking a smile. It's not possible!
Image: BettyWhoVEVO/YouTube