Diona Reasonover Talks 'Clipped's Future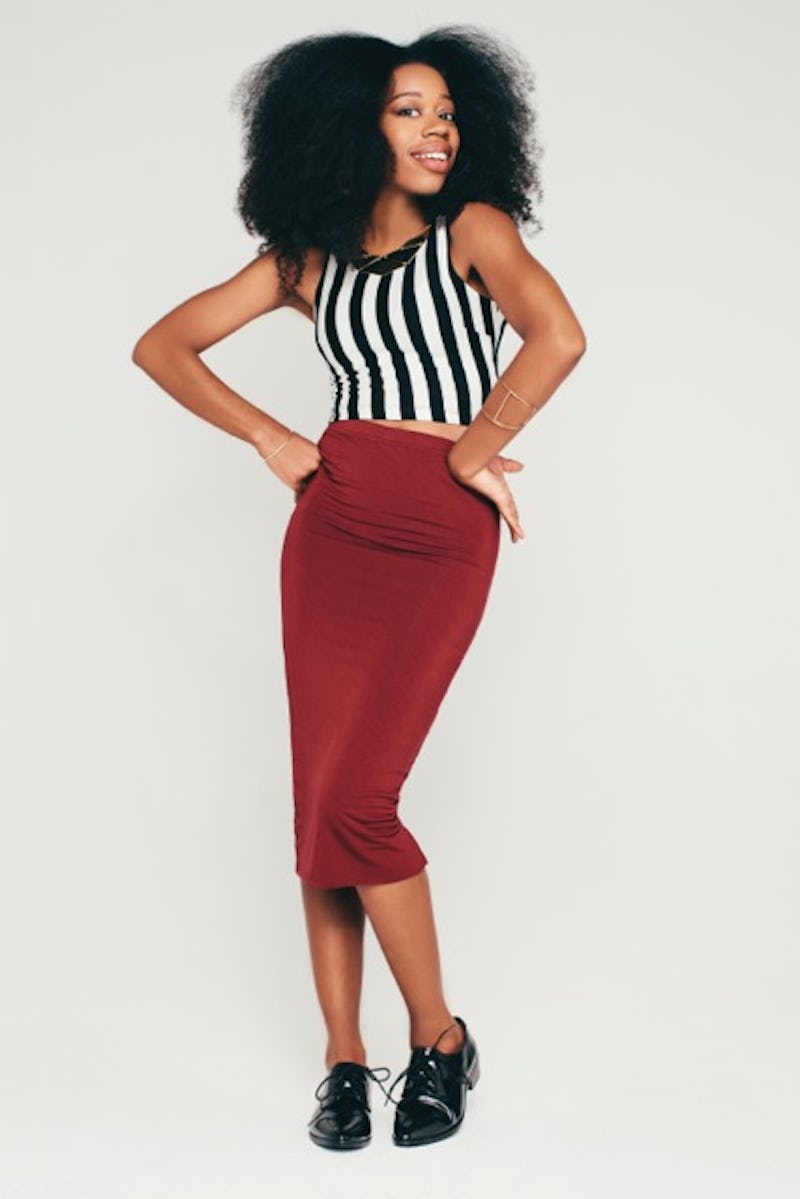 Have you been watching the TBS show Clipped ? If not, you should be — it's a multi-cam sitcom created by the same creative team behind Will & Grace, and it boasts quite the ensemble cast. I was fortunate enough to chat with Clipped star Diona Reasonover, who plays Charmaine, the acid-tongued one-liner-queen. Oddly enough, this wasn't the first time we'd met — turns out, she's a member of Ham Radio, an improv team that performs at iO West, along with my friend, Keiko Agena (aka Lane Kim from Gilmore Girls), and I'd seen her perform before. In her interview, Reasonover talked Clipped, her character, and her favorite Charmaine blooper. Apparently "Sitting in my chair," unintentionally became "Sh*tting in my chair" for several uproariously funny takes). She also revealed to who she would most like to get into a Twitter feud with (Coolio, since it would be easy to resolve things with him), and how she'd end it (with a photo of herself in a kiddie pool, accompanied with #blessed, of course).
Though Clipped is her first gig as a series regular, Reasonover comes to the table with a lot of experience. As previously mentioned, she regularly performs improv all over town, and she holds an MFA from the prestigious California Institute of the Arts — she credits her time at the "experimental place with creative freedom" for her fearlessness as an actress, both in her performances and in the audition process — because, as she so logically puts it, "The worst that can happen is, you walk out the same way you walked in — without the job."
She approached the lengthy audition process for Clipped in a similarly laid-back fashion — she joked that, in the back of her head, she was thinking, "There's NO way this is going to happen. They're going to pull some crazy famous person." Happily, though, she was proven wrong — and got the call while she happened to be out shopping for prescription shades. "A $60, not-even-designer pair of prescription aviator sunglasses," she adds. She was just in the midst of turning down an anti-glare coating (it cost extra, and as she puts it, "Well, let's not get crazy"), when she got the call. Thinking she was being summoned to sign some paperwork when she later met with her agent, she was pleasantly surprised when he greeted her with a bottle of champagne in hand. "It was really sweet of him, and I think a lot of agents don't do that, but my guy is really good," she says.
When asked if she went back and celebrated by adding that anti-glare coating, she says, sadly, it was too late. "You know what?" she adds. "One day, if I book a feature film, I will get myself some anti-glare lenses."
Fast forward to the present, and things are going swimmingly — she and the rest of the cast meet up weekly to live-tweet the show. "Unprompted — no one's forcing us to do this," she jokingly clarifies. They rotate houses for their weekly viewing party, and Diona hosted the last get-together in her self-proclaimed "tiny-ass apartment that's the size of a postage stamp." Oh, and get this: She treated everyone to homemade Beef Barbacoa, courtesy of a tantalizingly slow slow-cooker. "Here's the thing you can't eat for another four hours!" she describes it. But, inconvenience aside, it sounds delicious, no?
When asked what she wanted to see her character go through over the show's first (and hopefully future) season(s), she says, "I remain adamant that I want to see her get a girlfriend" — in part because she'd like to see Charmaine do better in the romantic arena than herself. She jokes that it took her years to find a girlfriend, and that "If [her character] can get it in two seasons, that's amazing. You always want better for your kids," she jokes. Reasonover also notes, "I think it's so interesting in a way getting to play this character who is a queer person of color, and I am a queer person of color... you just don't see that a lot, you know what I mean?"
She mentioned in a previous interview that she'd love to see Charmaine date Janelle Monae, but today she had a new romantic prospect: Improv partner-in-crime Keiko Agena. "How crazy would that be?" she muses, "If Lane Kim and Charmaine dated?" Um, Crazy amazing.
Delightful crossover fantasies aside, she'd also love to see the acerbically armored Charmaine get put through the wringer — "She's so confident, and so in control of her own world and herself — I'd love to see her totally sprung on somebody ... slack-jawed, unable to talk, totally a dweeb," Reasonover says. And, she'd like to get a glimpse of her home life. "Charmaine's adopted — she mentions it a little bit in an upcoming episode, but we don't see her family — I'd love to see that."
Hopefully Clipped's success will continue to rise as Reasonover's has, and we'll be able to see all this and more.
Images: Jessica Castro (2)