How to Recreate Cher's Look From 'Clueless'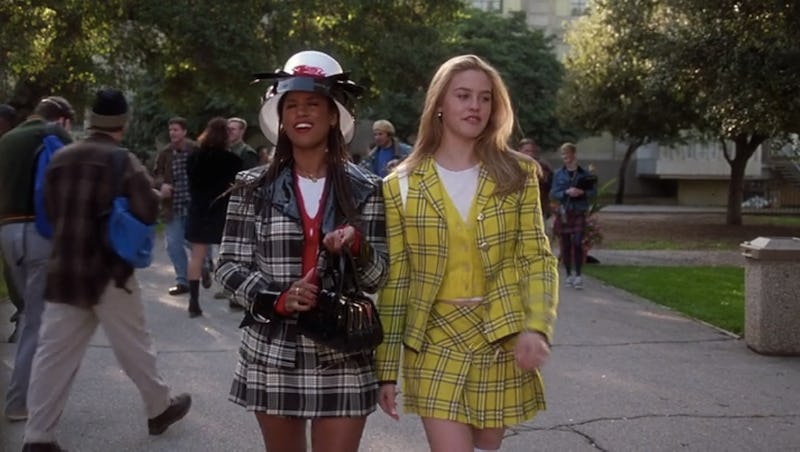 Some fashion triumphs are created, not born, and such is the case of the yellow skirt suits and plentiful of knee highs stockings in Clueless. When the teen classic hit the screen in 1995, it was boldly defiant of the passive anti-style movement happening among teens, reinventing a handful of concepts in a fresh and feminine way. So if you're looking to capitalize on that authentic '90s vibe, Clueless is maybe not the film you should channel. But if you're looking to make Cher's virtual closet a reality without looking like an extra in the "Fancy" video, read on.
You would think you'd need rotating garment rack and intense conceptualizing (trust polaroids more than mirrors!) to get the look down pat. However, the Beverly Hills preppy look can be consolidated by just incorporating four core elements into your wardrobe. And again, keeping it down to these select pieces is very important to keep you from looking TOO costume-y. You don't want to look like a fashion victim or (horrors of horrors) ensembly challenged.
So after combing through the movie for Cher's favorite staples (read: rewatching it for the fifth time this month) here's what you need to dress like your favorite '90s valley girl.
Plaids
It would be a disservice not to highlight the importance of plaid in Cher's wardrobe. As we insinuated earlier, that skirt suit is ICONIC. Horrendous in reality, but iconic. So how do you embrace schoolgirl chic on a smaller scale.
I'd start by suggesting that you really save this look for Autumn when plaid actually makes sense. Then start with one simple plaid item—mini skirt or jacket should get the job done. Layer your outfits from there (Cher loves a good cardigan-shirt or sweater vest-button-up combo) but save multiple plaids for professionals. Stick with bright reds and yellows, too. Everyone knows pastels are for argyles.
Sheers
Don't let Cher's miserable expressions fool you...a sheer overlay call really add a charming peek-a-boo quality to an outfit. Showing skin is especially also, sometimes you have to show a little skin. This reminds guys of being naked, and then they think of sex.
Anyway, Cher gets creative with her sheers, incorporating them in her "most responsible outfit ever" and mixing black overlays over white tanks. I'm not super about this choice personally, and the ruffles + crop sweater combo = TOO MUCH. But otherwise, I feel like you can't go wrong with a sheer button up and camisole (camisole here meaning "$5 spaghetti strap tank top from Forever 21") mixed with a statement necklace. Very chic, Cher approved.
Monochromatic Mini Dresses
Whenever Cher puts on a simple curve-hugging mini, the rules are simple: stick to a singular clean color, and make sure your entrance is impeccable. In short, the only accessory you need with an outfit like any of these is confidence. Or an Alaïa. Which is like, a really important designer.
The Good Girl Babydoll
There's a definite girlish innocence that dominated Cher's wardrobe, evident in the early plaid looks and reinforced by her love of teensy babydoll dresses. This actually feels very '90s reminiscent with undeground trends like kinderwhore, but the high waists are actually also characteristic of the Regency period, the era Clueless's big sister Emma is set in.
But enough fashion history. This silouhettte is (outrageously) not super popular in 2015, but I encourage you to scour your local thrift store and bring it back. The burgundy pick is great for fall, but I like what she's doing with the muted greens here, not to mention that satin-y piece is fantastic.
Honorable Mentions
Once you have the basics down, incorporate the following with caution:
Knee Socks
Berets
Teeny Pendant Necklaces
Snow White Button-Ups
Feathery Everything
Headbands
Sweater Vests
And Cardigans
If you approach with caution and a little bit of creativity, you'll be queen of the school in no time.
Images: Paramount Pictures (21); Giphy (1)