5 Rad Hair Tutorials For Your End Of Summer Fests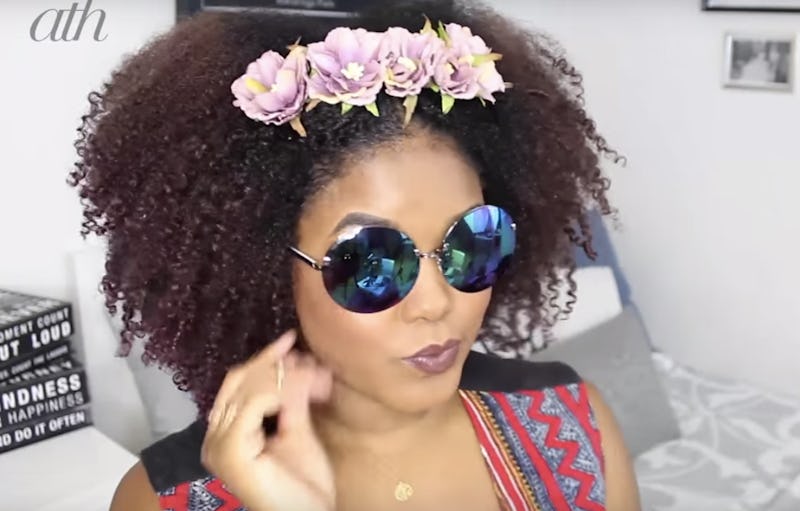 With their carefree, anything-goes vibes, wildly diverse musical acts, and exhilarating range of after-sundown socializing options, the end of summer music festival (or any music festival, really) is one of my hand-on-heart highlights of the season. However, as a fully paid-up member of the dry-shampoo-and-go club, when it comes to fashion-forward festival hairstyles, that won't be ruined by unpredictable late season weather, I tend to fall shamefully flat. Not only is navigating the frizzy-fringe causing sides of the tent tarpaulin difficult enough, but you've also got to factor in smelly, mirror-deficient Port-A-Potties, sweat soaked festival crowds, and unpredictable almost-autumn downpours. How does anyone stand a chance?!
There's something about going to a festival in August or September that sets it apart from the Coachellas or Glastos of June and July, though. End of summer weather is arguably more unpredictable than at peak season. Crowds are usually not quite as, well, crowded. And there's this weird air of impending reality and adulthood looming throughout these final gatherings. But in a bizarre way, that's what makes the last festival of the year so special — if a bit unpredictable in terms of the whole hair situation.
Luckily, these festival-frequenting YouTube pros boast oodles more talent than I ever could. Whether you have amazing natural locks or a short and sweet pixie cut, feast your eyes on these festival-friendly hair transformations.
For fabulous festi-hair paired with down to earth chattiness from two bright, bubbly personas, Helen Anderson and Callum of The Egg Salon fame are your new best pals. Proud winner of U.K. magazine Company's Best Fashion Blog Award 2014, Helen's look is a mixed embrace of '80s and '90s rock 'n' roll crossed with trashy Hollywood glamour, and her hairstyling tutorial offers easy peasy, fuss-free hair care for ladies with beautiful bobs and shoulder-length hair.
If you rock thick or natural locks, it can be easy to feel under-catered to by mainstream festival hair tutorials and magazine editorials. Luckily, Breanna has four natural-friendly treats to keep your hair happy throughout your final festival of the year.
If you find it super stressful to keep your long locks tamed while surrounded by mirror-less toilets and frizz-inducing tent tarpaulin, then Carrie-Anne will offer some cute, quirky ways to keep your tresses tied down without compromising your sartorial side. Also, the soundtrack is sufficiently whimsical to make you feel like you're already sat daydreaming by a campfire with a daisy chain in your hair.
This pretty, sharp festival hair tutorial will leave you short-haired gals with gorgeous, minimal-hassle hair in about 30 seconds. All you need is an arsenal of tailcomb, hair elastics, a spritz of salt spray, and a squirt of hairspray. What's more? On removal you'll be left with soft, surfer-chic waves.
For mythical muse misses who take each and every opportunity to grab ethereal style by the (unicorn) ears, this is your hair tutorial du jour. You'll need to plan your creature creation a few days prior to your festival journey, but for these glitzy, cutesy Lisa Frank-esque DIY unicorn ears, it be worth it. Just prepare yourself for the inevitable despair of having to lose them post-festival season.
Festival hair withdrawal symptoms are not to be underestimated this time of year. But at least August and September usually provide one last chance to go all out before school/work/real life steals your joy.
Images: All Things Hair/YouTube