5 Best Ways To Remove Bikini Hair This Summer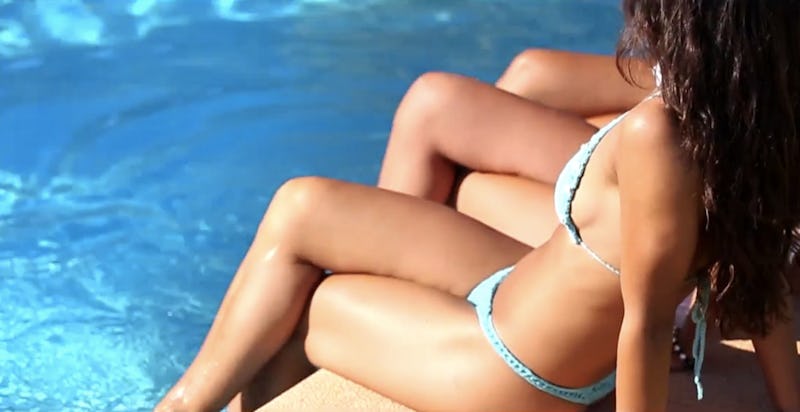 With swimsuit season comes the pubic hair debate, and with so many different ways to remove bikini hair, it can be hard to sort out the best option for you. But fear not, whether you're wanting to go fully Brazilian bare or just shape things up a bit, there's totally a strategy out there that's right.
Also, you may have already noticed how Bustle is all about body-positive celebrations, and that pride totally extends to pubic hair. Want to learn about the 6 greatest moments in pubic hair history? We've got you covered. Curious what your pubic hair says about your personality? Yeah, we went there. #SorryNotSorry
Heads up, coming from a girl with super sensitive skin that has ended up with some really (really) sad post-bikini-hair removal rashes, it's best to quickly chat with your doctor about what method is right for you. It might seem awkward, but trust me, a brief phone call with your doc is ultimately far less awkward than a burning or itching rash down there because your skin had an allergic reaction to a particular wax. Please, learn from my mistakes so that my suffering can serve some greater purpose! OK, thanks. Onward.
Here are the 5 best ways to remove bikini hair this summer.
1. Waxing
Obviously a popular choice, waxing at a salon or home works for either a little shaping or going bare. Cosmopolitan gives great details on how to prepare for waxing down there. The two biggest tips? Make sure you're in a sterile environment and that your hair is at least 1/4 of an inch long. Dirty salons open you up to a huge risk for scary infections, so do your research for the most reputable one possible!
Gillette Venus Bikini Kit, $10, Walmart
Ah shaving, my budget-friendly, usually sensitive skin-friendly method of choice. I'm no pubic hair shaping connoisseur, but shaving works out for me just fine as long as I use a brand new (not kinda new, brand new) razor every time, and pick a hypoallergenic clear shaving gel. Livestrong has a few more tips on this method, including hanging out in the hot shower for a few minutes so the steam softens your hair follicles, and always shaving in the direction of hair growth to reduce the risk of ingrown hairs.
3. Laser Hair Removal
If you can afford it, laser hair removal might just be the best, least painful option out there. WomensHealthMag warns not to be lured by discount deals at laser spas, but to always seek out a certified dermatologist. One session generally costs about $200.
Nair Sensitive Bikini Cream, $4, Amazon
These creams work to dissolve hair down to the skin, and then you can wipe it away for easy removal. Given they're chemical based creams, this is another option where I'd call your doctor first or, at the very least, do a "test" section of skin to make sure you don't have a reaction. Let's be real, who wants a chemical burn down there?
Philips Satinelle Epilator, $28, Amazon
Livestrong also highlighted the awesomeness that is the epilator. It's a handheld electrical device that pulls hair from the root. It's a little painful, but a great option that has a super low risk of infection since you're not cutting your skin in any way. Bonus points for it lasting four to six weeks!