11 People Rocking Some Glorious Mermaid Hair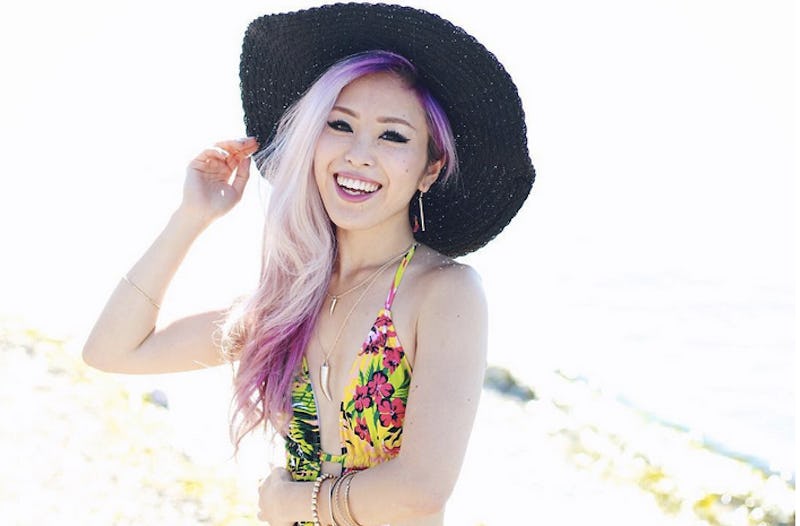 Summer is a magical time, during which we spend days by the pool, evenings on the patio, and weekends sunning ourselves at the beach. So when it comes to magical style, there has never been a more perfect time to rock some seriously glorious mermaid inspired hair for the summer.
I don't know about you, but I have always been obsessed with mermaids. Like most people, I got my first introduction to the mermaid world when I was just four years old. I was visiting with my grandma for an afternoon, and like most amazing grandmas, she took that opportunity to spoil me. I didn't go to the movies very often, and so she took me to the theater to see Disney's The Little Mermaid, which had just been released at the time.
Sure enough, from the moment Ariel came on screen and I saw that luscious, gorgeously flowing head of hair, I was immediately enchanted. I couldn't take my eyes away from it the entire movie; it was like I was in some sort of magical hair-trance. The way it moved and suggested the motion of the water, the way it gracefully circled around her face, the way it flowed elegantly behind her back as she swam (not to mention she was always combing it, flipping it or fluffing it)... all of that affected me for life. I would forever be obsessed with "mermaid hair" from that moment on.
It comes as no surprise that my love for mermaid hair has only grown over the years, and it's to my absolute delight that so many people also share my obsession for mermaid inspired locks — either long and curled for that fantasy lusciousness, or colored brightly for magical effect. The season for magical mermaid hair is upon us, so why don't we take a look at 11 people who are rocking some seriously glorious mermaid hair this summer:
1. Part Of Your World
This mermaid showgirl fits perfectly into the world of a mermaid with her long, luscious, perfectly flowing hair that is pretty much the real life version of Ariel's underwater locks.
2. Sea Punk
This sea-foam colored hair gives off an ethereal feel to this mermaid's look (and I'm seriously loving the makeup that adds a slight fantasy-punk edge to her whole style).
3. Color Goddess
This goddess is screaming fantasy-mermaid-realness with this extremely gorgeous, magical hair. The pastel colors that flow perfectly in an ombre style that have been curled into the perfect wave (complete with the flower crown and on-point makeup) leave one at the mercy of a hair siren call.
4. Sea Witch
This hair is pretty much the definition of perfect mermaid hair: The length, the curled, wavy texture and volume, and the beautifully colored, multi-toned green balayage that evokes everything sea-witch-worthy.
5. Tigerlily
Serving us Ke$ha-meets-mermaid realness, her long, teal-colored hair is everything.
6. Disney Princess
This woman is basically an IRL version of a Disney princess, mermaid, fairy, unicorn, and sailor-scout all in one. She constantly has the longest, perfectly-pastel-pink, gloriously magical hair that would make any Disney Princess and mermaid jealous in a heartbeat.
7. Take A Dip
This dip dyed hair gives off some serious mermaid inspo with its length, volume, and blonde-to-teal color. This babe is definitely living the mermaid hair life.
8. Friends With The Fishes
This beauty is also rocking some magical dip dyed hair, and I am loving the natural mermaid length and texture of it. If the shirt wasn't clear enough, the hair says it all.
9. Natural Waves
I'm really loving this more natural shade of "red" hair combined with its length, volume, and gorgeous natural waves. This hair is everything Ariel-esque and would be the glory of any mermaid sporting some beautiful, more natural looking locks.
10. Beach Fantasy
The beautiful pink and purple tones in this lovely long hair give some mermaid flare to this entire look. Whenever one sees hair this magical walking along the beach, you know she's got to really be a #mermaid.
11. Merman
Mermaid hair isn't just for the ladies anymore, you guys. Long hair has come to be quite trendy recently in the world of mens' hairstyles. How fantastic is it to see dudes rocking long, glorious merman-hair for summer? Not even a dinglehopper can keep that wonder under control.
Images: mermaid_showgirl, animegummybear, thycolorgod, wolfhause, djtigerlily, thedisneylandprincess, mixirobles, ellelaurenphoto, aestheticallshallowdrunkard, aikaslovecloset, black.faun/Instagram