Cute Mermaid Fashion Inspired By Disney's Ariel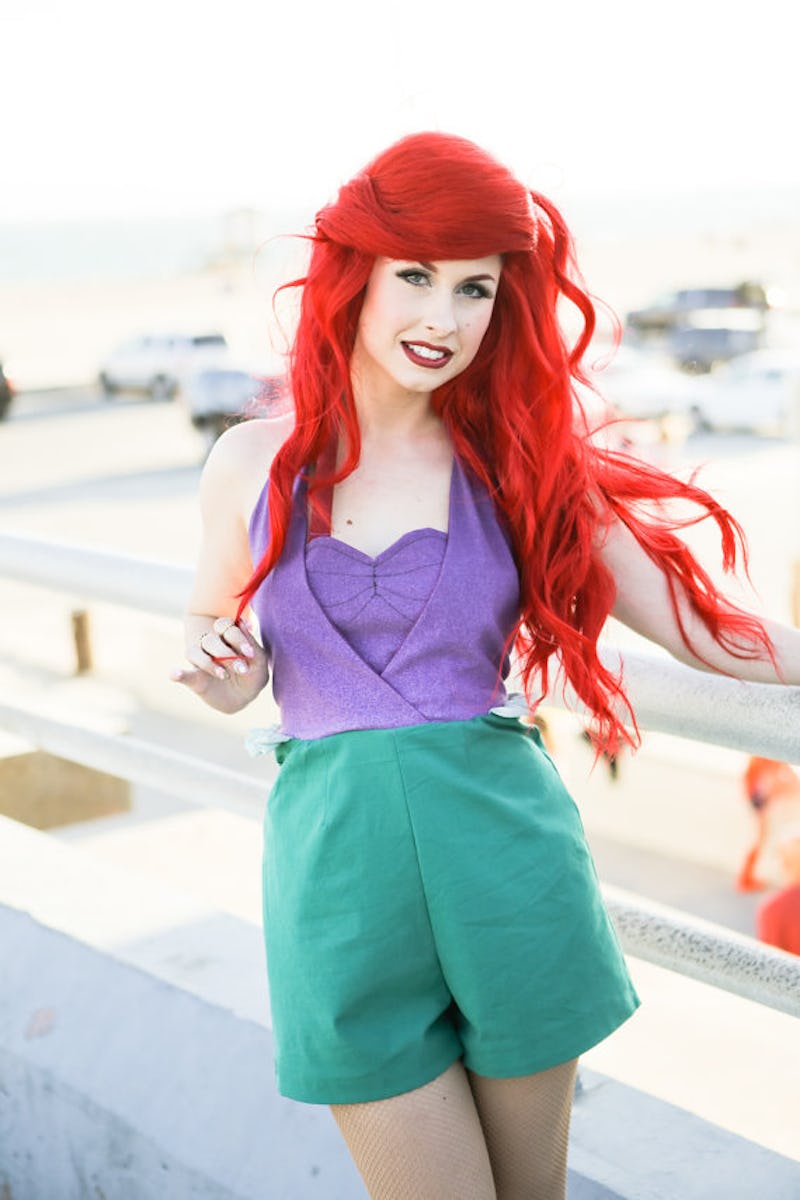 Mermaids are so in right now and everywhere I look I find myself longing after The Little Mermaid fashion. It's not just in high street stores either — as is usual with the fashion industry wheel, I presume this trend has trickled down from the top. High end threads such as pieces from Bobby Abley's collection take direct reference from Disney's The Little Mermaid and even include characters from the movie such as Ursula and Sebastian. For anyone interested, the collection is out now, so swim as fast as you can to your nearest stockist!
You could argue that Disney's version of The Little Mermaid is the most popular mermaid tale of our time. It takes inspiration from the original story by Hans Christian Andersen, which was a lot darker than Disney's fairytale adaptation. It is sad news that Sofia Coppola will no longer be directing The Little Mermaid movie, which is to be a live adaptation of the Hans Christian Andersen classic. However, this could be good news for Disney fans, seeing as the animation studio is slowly but surely remaking live action versions of its animated films; which may mean we could have a live action The Little Mermaid movie sooner than we hoped.
I just love mermaids, especially Disney's protagonist Ariel. I wanna' be where the mermaids are. I wanna see, wanna see them swimming! Paddling around on those — what do you call 'em? Oh — fins! I could go on but we'd be here all day. So to honor my favorite underwater princess, here's a selection of Ariel inspired mermaid fashion to ensure your summer goes swimmingly.
1. The Starbucks Mermaid Tank
Starbucks Little Mermaid Tank Top, $15, Etsy
Love mermaids? Always hanging out in Starbucks? Combine two of your passions with this comedic Starbucks/The Little Mermaid tank top. Ariel takes center stage and replaces the traditional Starbucks mermaid. She makes the Starbucks logo so much more fun, as if she's so overjoyed about the prospect of having a coffee. She's such a great advert for Starbucks — she's even making me, a non-coffee drinker, want a latte. You go merl!
2. The Mermaid Leggings
Mermaid Leggings, $64, Black Milk Clothing
If you actually want to be Ariel (or maybe one of her equally cool sisters), then you're going to need a pair of these incredible scaly leggings.
3. The Ariel Bikini
Disney The Little Mermaid Ariel Costume Swim Top, $20, Hot Topic | Disney The Little Mermaid Ariel Costume Swim Bottoms, $20, Hot Topic
I can't even believe this bikini set exists. Bravo Hot Topic, you have outdone yourself. This bikini, complete with purple clam shell style top and high–waisted scaly bottoms, is what mermaid dreams are made of. Somebody pinch me!
4. The Ariel Versus Ursula Dress
Ariel Vs Ursula Inside Out Dress, $175, Black Milk Clothing
You better believe your eyes because this inside out The Little Mermaid inspired dress is totes for real. Depending on your mood, you can wear a colorful frock depicting Ariel and her chums having fun, or you can reverse the dress and wear a smug Ursula on your torso. This is literally two dresses for the price of one.
5. The Vintage Mermaid Frock
Disney The Little Mermaid Shell Dot Print Dress Plus Size, $55, Hot Topic
This gorgeous plus size frock is for all lovers of vintage style, nautical attire, and/or fans of Ariel. Its polka dot print is super cute as the classic dot is interspersed with tiny shells. My heart is melting.
6. The Ariel Romper
Disney Little Mermaid Ariel Inspired Princess Romper, $95+, Etsy
Oh. My. Cod. Look at that sparkly purple fabric and those adorable fin frills! This Ariel inspired playsuit is just perfection.
7. The Landlubber Dress
Adult Princess Ariel The Little Mermaid Blue Land Dress, $56, Etsy
The more I keep searching for Ariel inspired attire, the more I can imagine my bank balance depleting. I am just falling in love with everything, the way I did when I first saw The Little Mermaid and knew that I had to add "become a mermaid" to my bucket list.
8. The Forking Amazing Hair Accessory
Disney The Little Mermaid Cosplay Hair Bow, $7, Hot Topic
One cannot channel Ariel without a fork to go in one's barnet. Enter this sweet Ariel-esque bow complete with miniature fork for all those tangled hair moments.
9. The Ariel Sweatshirt
ASOS Sweatshirt With All Over Little Mermaid Print, $38, ASOS
Keep it casual with this cute Ariel print sweatshirt to keep you warm when the sun goes down on the beach.
Darlings, I have known for a long time that it's better down where it's wetter, and these Ariel inspired pieces prove my case!
Images: Giphy (2); Courtesy Brands