7 Ways To Instantly Brighten Your Eyes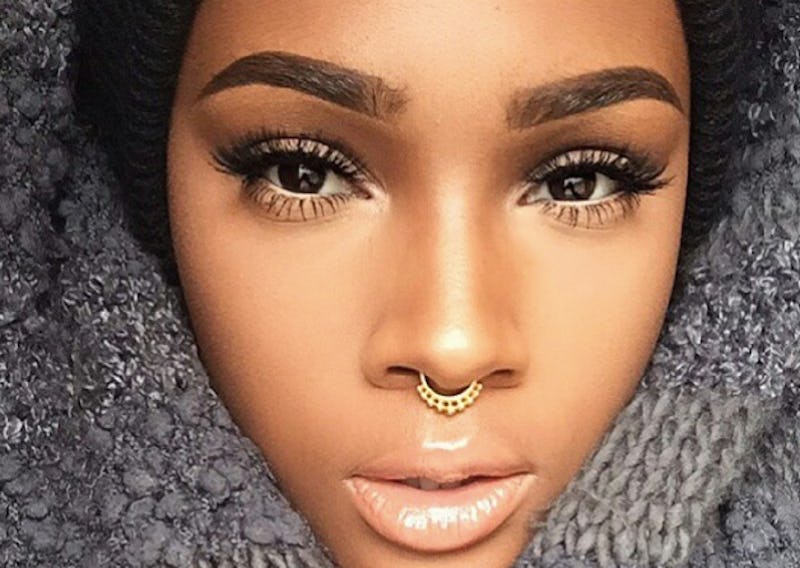 They say eyes are windows to the soul. If your soul is sleep-deprived and attempting to make it through the day on an all-espresso diet, odds are your eyes are conveying that pretty clearly. Because really, in a world full of deadlines, weird Netflix documentaries to binge-watch, and a social life to be had, no one is safe from under-eye circles or exhausted-looking eyes every once in a while. The good news is, there is an entire makeup aisle full of ways to fix those tired lids. All you need is the will to step outside your usual makeup routine, and try something new.
Of course, when it comes to brightening up your eyes, there are a few fundamental things (aside from awesome eye makeup) that help tired eyes longterm: hydration, at least 8 hours of sleep, a healthy diet/workout combo, and a good skincare routine — basically all of your New Years' resolutions. While you should definitely keep all of these grown-up things on your to-do list if you're looking to combat dull eyes for pretty much ever, there are plenty of tips and tricks to get your eyes sparkling right now. Trust me: Your bright, shiny eye-windows await.
1. The Colorful Cat Eye
There's no denying winged liner can give you some prominent eye definition, but what about brightening those irises? Black liquid liner can appear really harsh, especially with a really defined wing, but try a more colorful liner (baby pink or aqua blue, anyone?) and you can complement your eyes' natural beauty without stealing the show. Tone down the rest of your makeup to create a more casual look, or pick an equally as bold lip (maybe even matching) if you're feeling it!
2. Gold Details
When you're queen of the world (which you are), gold is your neutral color. I can't think of a single eye color that isn't complemented beautifully by a nice gold pigment — so ditch the everyday 'nudes' and get with it. Apply a little gold shadow to the inner corner of your eyes, and watch your eyes instantly shine. No need for liner unless you wanted a little added definition, but mascara will definitely complete the look.
3. A Neon Waterline
This might be a very literal interpretation of the whole bright concept, but trust me, using bold eye colors can have a seriously gorgeous outcome. Trying out a lime green shadow is not for the faint of heart, so I suggest you start out easy. A colorful liner is a nice, subtle way to draw attention to the eyes without looking too wild or overdone.
Aqua Eyes Waterproof Eyeliner Pencil, $19, makeupforever.com
4. Neutral Is More
For some, a pop of white can look a little too severe, so try finding a liner that is slightly lighter than your skin color. Apply it exclusively to your bottom waterline for a brighter, more awake look. Add a few strokes of mascara to your upper and lower lashes, and you have discovered the beauty equivalent of a shot of espresso.
5. Layer Your Liner
Some people are true liquid liner addicts, and cannot be weaned off their daily cat eye. And that's totally cool, but half the fun of makeup is playing around with your look! Add this spin on an old favorite, and you'll notice the difference immediately. Start by covering your lid with an eye primer, and then apply your liquid line as usual. Let it dry, and go in with a bright colored liquid or gel liner, just above your original wing to create a multi-dimensional effect. If you're feeling bold, try out a few different colors and watch your eyes really sparkle!
6. It's All In The Concealer
Your eyes are only as bright as the skin surrounding them. If you find your under-eye skin is looking dull, irritated, or has a little extra baggage going on, it might be time to invest in some some eye cream, a few more hours sleep, and a brightening concealer. Try to find a concealer that can offer you full coverage, plus a highlighter that can combat uneven skin and take away that under-eye stress.
YSL Touche Eclat - Radiant Touch, $42, sephora.com
7. Maximize The Mascara
If you're looking for a quick fix to wake up your eyes, mascara is it. Long, full lashes immediately gives your face life, and thankfully, falsies aren't the only way to achieve the look anymore.
"These new formulas have the perfect combination of volumizing and lengthening fibers, plus brushes that grab the tiny hairs other mascaras miss," says Melissa Silver, a NYC-based makeup artist.
Use your favorite lengthening formula and bring it as close to the lash roots as possible, and wiggle it back and forth as you make your way to the tips. Then, take a curler to them for some added volume. A little tip to make sure the curl lasts: use a blowdryer on your fingertips, then gently run your warm fingers along your lashes to enhance the shape!
Images: Courtesy Brands (2); palmholloway, astrog1rl, thelondonlashcompany, esbeidymakeup, intothegloss/Instagram