'The Jim Gaffigan Show' Cast Is Filled With Familiar Faces Who Have You Laughing All Summer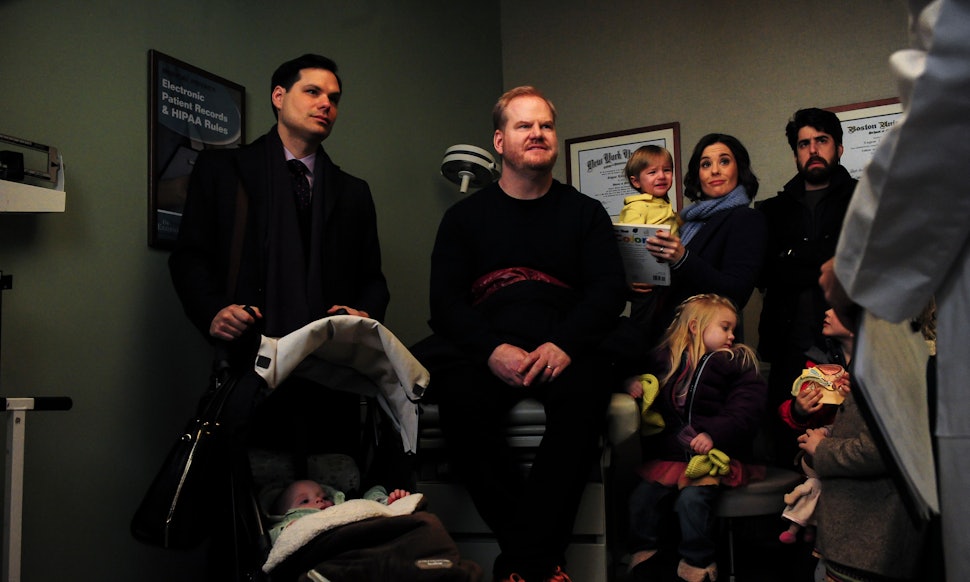 Jim Gaffigan has been a recognizable face in the stand-up comedy world for years now, but the comic hasn't gotten as much attention from film or television audiences — until now. His TV Land series will premiere on July 15, and The Jim Gaffigan Show cast is truly amazing, even though it's nominally based on one man's solo performing style. While Gaffigan is used to going onstage alone, his style is confessional and personal, casting his family and friends as parts of his stories. I know it's a high bar, but even though The Jim Gaffigan Show is more of an overt comedy, the show vaguely reminds me of Season 1 of Louie. Actually — it's even more like Lucky Louie, Louis CK's first shot at television.
Both of those shows are smart comedians adapting their New York City lives into a conventional sitcom, and both are about unconventional living situations for television. The Gaffigans' huge family lives in a tiny two-bedroom apartment on the series, but The Jim Gaffigan show is coming at a much better time for the comic, because as his wife Jeannie said in an interview with Huffington Post, they're writing about a period in their lives that's thankfully in the past. Now, their five kids are a little older, they are less thrown by the living situation, and Jim is more successful. Being inspired by the recent past will hopefully make the show the right combination of nostalgic and accurate — oh, and funny. The cast should certainly help with that last part.
Image: TV Land
Jim Gaffigan
Obviously, the star of the show is the guy whose name is in the title. Gaffigan is best known for his stand-up, but he's also a frequent podcast guest and late-night performer. His persona is all about being a dad, being deeply exhausted with modern life, and loving food, so I think almost everyone can relate to some part of his comedy.
Image: TV Land
Ashley Williams
Williams will be both playing and taking her inspiration from Jim's Jeannie — because the real Jeannie Gaffigan is a cowriter of the series. Williams is probably best known for her performance as Victoria the baker on many seasons of How I Met Your Mother.
Image: TV Land
Michael Ian Black
I don't know how Michael Ian Black manages to appear on so many shows, but this summer, he will not just be playing Daniel Benjamin (he's playing an original character rather than a vague approximation of himself; unless secretly in real life he's a snotty Wall Street jerk) on The Jim Gaffigan Show, but also appear in Wet Hot American Summer: The First Day of Camp and Another Period. And he still has time to fight with Twitter trolls every day.
Adam Goldberg
As Jim's best friend on the show, Adam Goldberg will drive audiences crazy for the first few episodes as they try to remember exactly where they've seen him before. The answer could be any one of his many supporting and lead roles in films, especially ones like Saving Private Ryan and How To Lose a Guys In 10 Days. More recently, he was in FX's Fargo, so that may be ringing your internal "That Guy" bells. Or, you may just be thinking of the creator behind The Goldbergs .
Image: TV Land
Tongayi Chirisa
One of the less familiar names in the Jim Gaffigan Show cast is Tongayi Chirisa, whose credits are primarily in African films and television (he is originally from Zimbabwe). But he has been making his way into American media since he moved here in 2009, according to TV Land's bio. Appearances in American Horror Story and NCIS must have helped him get used to US television. In the trailer, his delivery is pretty solid, and his energetic priest character seems designed to clash with Jim's lazy monotone.
Image: TV Land
And A Whole Lot Of Comedians/Celebrities
On this show, many comedians will be playing versions of themselves (simplified and humor-ified) in order to work better as characters. Those who appear in the trailer? Macauley Culkin, Dave Attell, Chris Rock, Janeane Garofalo… A bunch of nobodies. It seems like the cast is going to help fill out The Jim Gaffigan Show's brand of humor.
Image: TV Land