This Harley Quinn Makeup Tutorial Is Awesome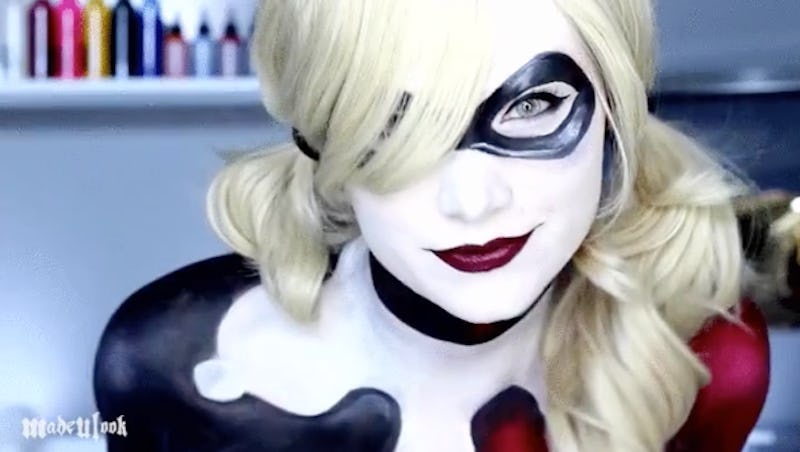 Is it too early to start planning your Halloween costume? No? Didn't think so. Incorporating makeup into a costume has become super popular over the last few years - think adorable deer costumes of 2014, or half-faced candy skulls of last year, and the always classic black cat ensemble. Thanks to YouTube, you can kick it up a notch this year with this Harley Quinn costume makeup tutorial.
The feisty DC Comic super villain makes for a partly creepy, partly sexy costume. If that's your jam, then this video is for you. Self-taught makeup artist, Lex aka MadeYewLook, walks step-by-step through costume makeup for all kinds of comic villains, from Poison Ivy to The Joker. Her tutorials are freakishly easy and the end results are scary realistic.
We aren't going to sugar coat it: Lex's techniques are hardcore. Think, black lined eyebrows and body paint on your lips (and inside your ears). Hey, if you're going to commit, you might as well go all in. Literally.
Fast-paced character makeup tutorials have been make popular thanks to the likes of Kandee Johnson and Michelle Phan. So whether you want to be Harley Quinn, Pocahontas, or Khaleesi for Halloween, there's a YouTube tutorial for that.
If that's not your steez, you could also channel Margot Robbie's interpretation of the DC supervillain from the upcoming Suicide Squad movie.
Image Credit: Warner Bros