10 Of The Weirdest Chip Flavors In History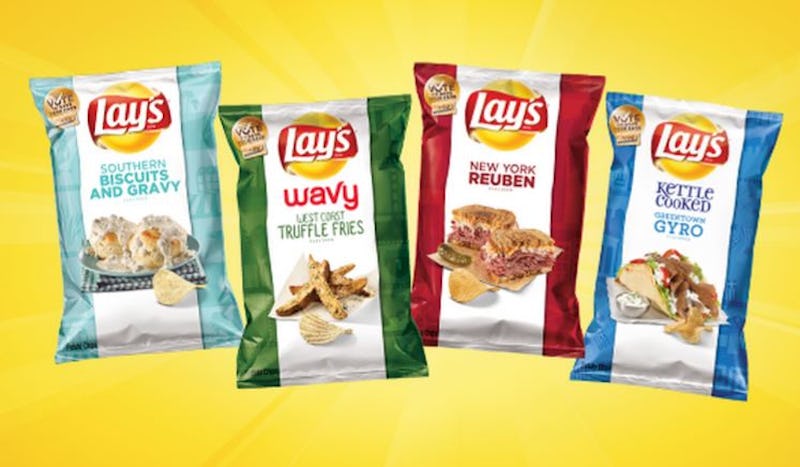 I wish I could invent my own personal flavors for all of my favorite foods. I mean, whiskey is technically a flavor, right? Well, hey — at least when it comes to potato chips, Lay's has offered us that opportunity: The new Lay's Do Us A Flavor chips for 2015 have just been released, and you guys? They're... creative.
In 2012, Lay's launched the Do Us a Flavor contest allowing consumers to come up with flavor ideas for their favorite crispy treat to commemorate the brand's 75th anniversary. The creator of the winning flavor was offered $1 million, while the two runners-up were given $500,000. Not bad for a hobby I do on the reg (that is, dreaming about the perfect food).
In the years since, the contest has given us some pretty awesome chip flavors, and 2015 is no exception. This year's contest was themed "Tastes of America," and takes us on a tour of the country with four new flavors: Southern Biscuits and Gravy, Kettle Cooked Greektown Ryro, New York Reuben, and Wavy West Coast Truffle Fries. This is some Willy Wonka magic right here: The flavor of an entire meal packed onto the surface of a potato chip? Yes please. All four flavors are now available, and on July 27th, fans can vote to save their favorite to be added to the Lay's lineup.
But Lay's isn't the only company to have come out with some pretty unusual chip flavors. Here are 10 of the wackiest potato chips in recent history, because who knew there were so many varieties?
Boulder Canyon came out with four kettle chip flavors that give you the sensation of an entire Thanksgiving Day feast: Turkey and gravy, cranberry, stuffing and pumpkin pie. I mean, personally, I just want everything in the world to taste like stuffing. Sold.
Lay's is at it again. But lobster, though? Like, is this really tricking my brain into thinking I'm eating something 800 times more expensive?
Great: Two things I can't stop eating once I've started come together into one impossibly addictive food item.
I didn't even know that was a thing people wanted more of.
I have no words. I'm literally baffled about everything that's going on here.
OK. Let's keep the fruit out of this, please.
This one is from Walkers, the same company that brought us the beef and Yorkshire pudding combination. I'm pretty sure they're just throwing darts at different foods over there and making chip flavors. Sounds like a pretty cool job.
I haven't even had regular squirrel yet, let alone a Cajun one, let alone in chip form.
Honestly? I think I'd try this one. Although I'l admit that the idea of turning one vegetable into the flavor of another vegetable is a little confusing. Why not just eat a cucumber?
Maybe this is strange, but personally, if I could have a caffeine-flavored toothbrush, I'd be happy.
Images: Lay's/Facebook; tobze, Ben O'Bryan, Simon Jobling, Ryan McFarland, John Koetsier, theimpulsivebuy, Mike Mozart (2), Duane_Brown, Tom Caswell, Nancy <I'm gonna SNAP!/Flickr