Will These 'Rich Kids' Have a TV Wedding?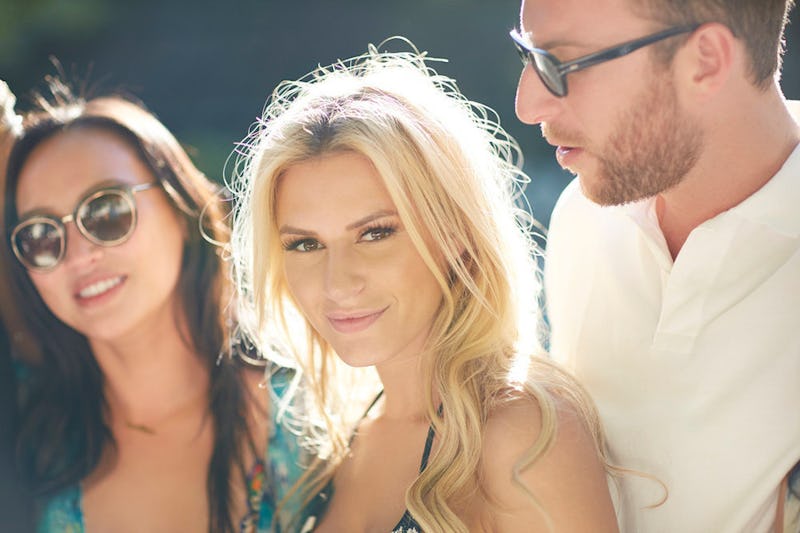 After just eight short episodes, Rich Kids of Beverly Hills has come to an end. Now, the big question is: Will Morgan and Brendan's wedding be shown on Rich Kids of Beverly Hills ? Or will we be stuck with Instagram envy only, like Roxy after the trip to London? According to an interview Morgan gave recently to Wetpaint, she hasn't decided whether or not to let E!'s cameras into the event. "TBD on that. A part of me is like, sure! And then a part of me is like, 'No, I want it to last.'" I think we all know that her two sides are fighting: Her celebrity side, of course, wants to have the cameras at the wedding. But there's also her WASPy side, which surely wants to keep everything classy and private. Personally, I'd love to see it. But, everything between Brendan and Morgan is instantly entertaining (I think they are the least compatible couple ever, so, of course, they're going to stay together forever), so I guess the audience will live if Season 6 cuts straight to them as a married couple.
But, there are plenty of other weddings that have been filmed for television, and while M & B are weighing whether or not to add theirs to the list, they might as well think about how successful other couples have been at having their weddings on television. There are amazing examples that will have them calling E! right away to sign some contracts, but there are also huge disasters that hopefully they ignore when making the decision... because ultimately, what would Rich Kids of Beverly Hills be if there wasn't a three-part special all about this wedding?
1. The Royal Weddings
I mean, this is the ultimate win. Whether you're thinking of Kate & William's recent version or the classic with Diana and Charles, the British royals know a thing or two about how to make their weddings look beautiful and flawless. And, no matter how much a Pippa may try, there's no upstaging the bride at a royal wedding — Morgan should love that.
2. Kim Kardashian's First (Televised) Wedding
Kim was technically married once before (to Damon Thomas when she was 20 through 24), but her first wedding as a famous person came in 2012, to basketball player Kris Humphries. The whole marriage was doomed before the wedding episode even finished airing. Point in the "no" column.
3. The Monaco Royal Wedding
A slightly less well-known royal wedding, between Princess Charlene and Prince Albert of Monaco. They had a very awkward union on television, with Charlene shedding some... intense-looking tears on the altar. But, they have stuck it out together, and now have seven-month-old twins. So, that's good.
4. Nick Lachey & Jessica Simpson
Oof. Another failed marriage, and while their wedding was perfect for them, it was pretty cringey, and not at all what a couple of Rich Kids would want. Also, it's much less annoying to have a real wedding on the air than it is to have a special where you talk about your wedding.
5. Spencer Pratt & Heidi Montag
These two are still together, so I guess the curse of reality TV hasn't gotten to them yet. And, they're an American couple who first became famous on reality TV, so maybe the medium is friendliest to its own. But, people don't remember Speidi's famous wedding, because it wound up being all about Lauren — and that's a big knock that Brendan and Morgan would never want.
6. Kim K's Second Televised Wedding
While Kanye West has decided that most of his life with Kim Kardashian would be limited to social media and his own music videos, he did make an exception for a "wedding special" on Keeping Up with the Kardashians. And it was a delightfully pretentious affair, actually showed a little bit of directorial originality, and was incredibly highly-rated. I think this is the best template going forward for reality stars. And, since it was produced by E!, I think Morgan Stewart and Brendan Fitzpatrick will be in good hands if they decide to put their wedding on Rich Kids of Beverly Hills.
Images: Mathieu Young/E! Entertainment; Getty Images