James Holmes' Reaction To His Verdict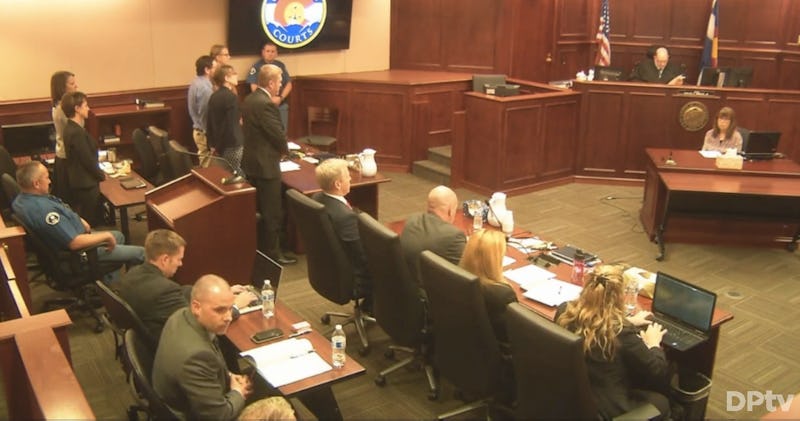 After three years of delays, the verdict is in, and shooter James Holmes has been found guilty for his deadly massacre at an Aurora, Colorado movie theater in 2012. As Judge Carlos Samour read off the verdicts for 166 counts of murder and attempted murder, among other charges, Holmes' reaction was chilling; he stood quietly in the courtroom.
A camera inside the courtroom offered a distant side profile of the shooter. Holmes offered no reaction as the first guilty charge came in. Wearing a blue collared shirt and khaki pants, Holmes stood relatively still for nearly an hour and appeared unaffected as each verdict was announced. Holmes stared straight ahead and his hands stayed in his pants.
The verdicts were an expected end to a belabored journey to get Holmes to face trial for fatally shooting 12 people and injuring 70 in the massacre. Holmes' defense team attempted to build a case on whether he was legally insane at the time of the killings. The prosecution claimed Holmes deliberately wanted to kill everyone present in the theater and was entirely sane. The issue of sanity was what led to the trial's repeated delays, as both sides sought to have their own medical professionals evaluate Holmes.
Image: Denver Post