How Big Is 'Tut'? *This* Big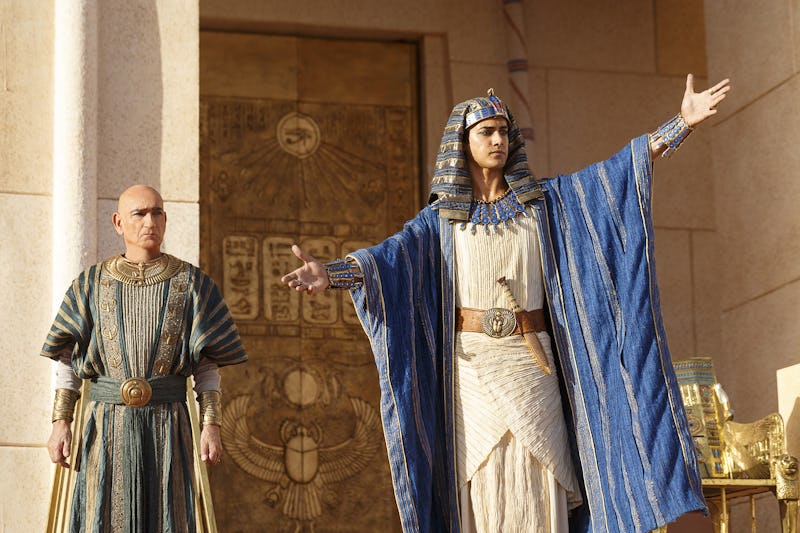 Our culture has an endless fascination with Ancient Egypt. The Pharoahs have been subject to countless movies (like last year's Exodus: Gods and Kings), books, and museum exhibitions. Cleopatra is usally the star of the show, but if she's not at the center of attention, chances are Tutankhamun — aka good ol' King Tut — is usually next in line. That makes it utterly perplexing that there's never been a TV series before that covers Tut's reign. That is, until now. On July 19, Spike will premiere its limited miniseries event, simply titled Tut, detailing the short life of the young ruler. We know his reign was relatively short, but how long will the series be? How many episodes is Spike's Tut ?
Get ready for a lot of ancient Egyptian history to be packed into a short period of time. Tut will only be six hours long, and will only run for three nights. There's no time to savor this one; a marathon is basically your only choice. That's not to say it won't cover a lot of ground. The series covers the rise to power of the Pharoah (played by Avan Jogia), the schemes of his friends and enemies along the way (like his closest adviser, Vizer Ay, played by Sir Ben Kingsley), and his rule as king. Here's what else you need to know about Tut.
Neither Star Is Actually Egyptian
Unfortunately, in Hollywood getting non-Egyptians to play Pharaohs is par for the course. (In the aforementioned Gods and Kings, Joel Edgerton — from Australia — played Ramses.) But Tut doesn't break the mold in this regard. Jogia, whose Instagram shows him as a dual citizen of Canada and the United Kingdom, has a father who's a British expat of Indian decent, according to BuzzFeed. The website also notes that his mother is Welsh, English, and German. Kingsley is also a U.K. citizen. According to JWeekly: "Kingsley, born Krishna Bhanji, is the son of an Indian physician and an English fashion model whose parentage was partly Russian Jewish. Born out-of-wedlock, his mother was loath to speak of her background." So both actors have a mixed and varied backgrounds — and both have Gujarati heritage — but Egypt doesn't really factor in to either one.
The Show Represents A Shift For Spike
The Wrap notes that programming like Tut is meant to move Spike's reputation away from a network for dudes; it's trying to appeal to more women. "We want to do things that are bold, we don't want to do things that are derivative," Sharon Levy, executive vice president of original series, told the website. "I loved every moment of making programs for lots of young men, but it is incredibly liberating to say, 'Hey, we want really women to watch this in a meaningful way,' and to try to catch the biggest audience we can."
Jogia Has An Unlikely Acting Hero
Jogia has nothing but love for his knighted co-star, but, when W asked him for his first bit of acting inspiration, he gave an unlikely answer: Tim Curry as Long John Silver in the movie Muppet Treasure Island . (Not that Muppet Treasure Island isn't wonderful. It's just rare that someone watches a Muppet movies and pays more attention to the human performances.) "He was just so committed to that character," he told the magazine. "If you go back and watch it, it's emotional." Tutankhamun: Man or Muppet?
Kingsley's A Fan Of Hieroglyphics
At least, he's a fan of how long they've been around. "What we have in that extraordinary dynasty and era—the hieroglyphics, design, [style]—didn't change. They were made to last 1,000 years," he told Vanity Fair. "The tablet in your pocket will be obsolete in three months."
You Don't Have To Go to Egypt To See Tut's Tomb
Inspired by the show and want to see more? Head to Michigan. Yes, Michigan. You'd think all of Tut's treasures would be at The Egyptian Museum in Cairo, but no. In fact,the exhibition The Discovery of King Tut is currently at the Grand Rapids Public Museum. OK, a lot of the good stuff there are actually reproductions, but you can see a built-to-scale reconstruction of Tut's tomb there.
It Probably Won't Be Anything Like This
This is the most enduring image of Tut on television so far. Your move, Jogia.
Images: Spike; Giphy (4)