The Perfect Excuse To Eat Pizza For Breakfast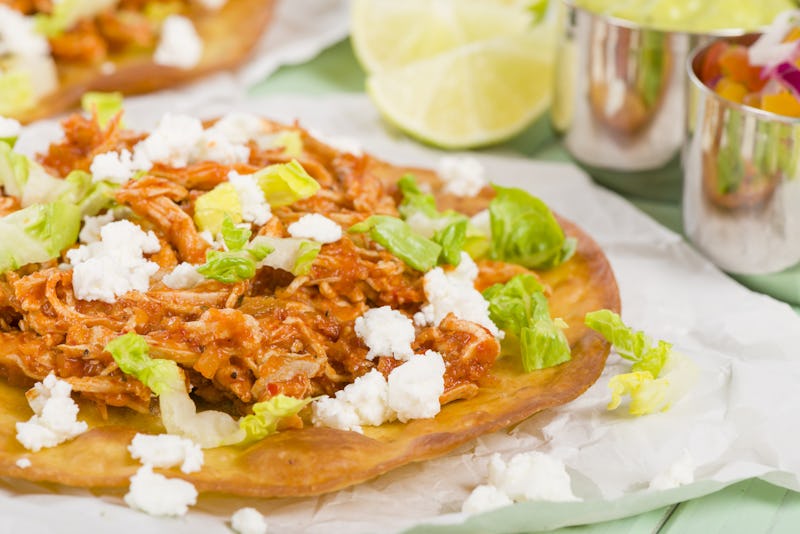 If you're anything like me, at this very moment you're probably thinking, "If only I could find one more reason to eat pizza for breakfast..." Well, thanks to the tlayuda, a.k.a. Mexican breakfast pizza, you now have yet another very valid excuse to indulge in heavenly layers of cheese and meat first thing in the morning.
Now that I have your attention, let's get into the details of this breakfast pizza, which clearly descended upon us from the gods of fromage above. OK, first off, what exactly is a tlayuda? Pronounced tla-yoo-dah, with an emphasis on the yoo, tlayuda is a traditional Oaxacan street food typically eaten after a late night of drinking. Although variations abound, the traditional tlayuda starts with a large, thin corn tortilla base which is baked over a comal or grill until crispy. The tortilla is then lathered with a spicy bean purée followed by meat, queso, and a mélange of toppings.
I was lucky enough to experience my very first tlayuda at New York's very own Pachanga Patterson in Astoria, Queens. Inspired by his wife's family's authentic Mexican staple recipes, Chef Peyton Powell tops his tlayudas with a smooth black bean purée, melt-in-your-mouth, house-made chorizo, tangy homemade queso fresco, freshly sliced radishes, zigzags of cooling crema, and a perfectly cooked sunny-side-up egg. Basically, it's the perfect morning-time meal.
The result? A texturally sensational pizza exploding with complementary flavors. The crisp tortilla proves itself as the perfect sturdy vessel for welcoming the flavor parade that is meat, cheese, and veggies. The invigorating spice of the house-made chorizo is delightfully quelled by the cooling effect of the queso fresco and Mexican crema. The spicy radish serves as the ideal amount of added crunch you crave against the smoothness of the black bean purée. And as the sunny-side-up egg breaks in the center of the pie, all flavors and textures are married under the unifying force that is smooth, creamy yolk gravy, and at that moment everything in the world is good... because this is pizza for breakfast. This is perfection.
If you can't make the trip to Oaxaca, Mexico or Astoria, New York anytime soon, have no fear — try creating a personalized version of tlayuda in the comfort of your own kitchen. Follow this recipe from Global Table Adventure, sub toppings as you see best fit, and enjoy that homemade Mexican breakfast pizza.
Images: Fotolia; Marion Bernstein; Courtesy of Rachel Van Dolsen