Have A 'Gilmore Girls' Movie Night This Weekend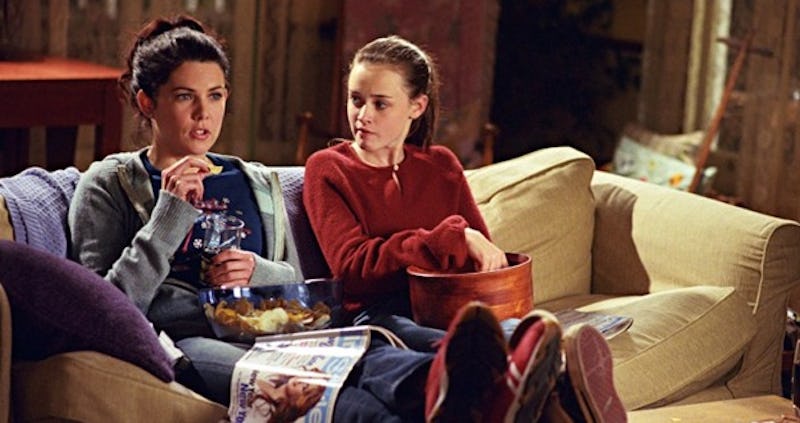 No other show has been more barbed with both caffeine and pop culture like Gilmore Girls, and that's why you, I, and anyone who matters loves it. However, let's face facts: you've marathon watched the series 20 times since it hit Netflix last October. It's time to switch gears and move onto something different. So why not instead channel the Gilmore women by having a movie night with all Lorelai and Rory's favorite movies from Gilmore Girls? (And then go back to marathoning the show, with greater understanding of all its references this time.)
It's an activity that's considerably less intense than tackling the Rory Gilmore reading list, and it'll expose you to a variety of both camp and classic flicks. While the full list of referenced movies in the show is extensive, I decided to tackle some movies expressively loved by the Gilmores. You know, more of the ones that made it into official Gilmore movie nights versus the ones that were passingly referenced in quick battles of wit... with a few notable exceptions. All you need to do is load up on candy, chips, an edible concoctions from your chef best friend and diner-owning boyfriend respectively, and you're good to go.
So here, take a gander at these Lorelai and Rory faves so you too can have your own Gilmore Girls movie night.
1. Willy Wonka And The Chocolate Factory
This is the first film we see as a part of Gilmore Movie Night, and, regardless of Gilmore approval, this would appear on ANY of my must-watch lists, since it is quite possibly the greatest film on Earth. And I thoroughly appreciate Lorelai's philosophy when watching it: "You can't watch Willy Wonka without massive amounts of junk food. I won't allow it." Make sure to load up on the mallomars and red vines for this one.
2. Funny Face
Even if you were staunchly anti-Christopher-and-Lorelai, you had to love when he set up an impromptu drive-in date with this Audrey Hepburn classic. "I love this movie," remarks a baffled Lorelai. And who wouldn't? Though the plot is worth a side eye (an idealistic bohemian becomes a model in Paris and dates a 40-years-her-senior Fred Astaire), it's pure eye candy, and very, very fun.
3. Pippi Longstocking
Though double date night didn't work out so well, you have to appreciate the weirdness of Pippi Longstocking. It's one of the Gilmores' most watched movies, even Dean has seen it at least three times. And why? It's a classic of surrealism, bizarre cinematography, atonal singing, and forced acting.
4. Gigi
I'm a big believer in repping Emily as a Gilmore girl as much the Lorelais, so consider this a little shout out to her... and not the little monster that happens to be Rory's half sister. Emily urges Rory to travel to Europe with her by saying, "We'll have a wonderful time you and I. It'll be just like Gigi." Incidentally, Gigi was going to Paris to become a courtesan, so I hope it wasn't just like that.
5. My Man Godfrey
Looking for something super vintage for a date? Take a gander at My Man Godfrey, the film Luke was watching at the Black, White and Read after his first breakup with Lorelai. Hopefully any mid-movie conversation will go better than the awkward banker there. Spoiler: they talk fast in these things.
6. Tears And Laughter: The Joan And Melissa Rivers Story
I'll just let your favorite fictional mother-daughter duo describe this film about your favorite celebrity mother-daughter duo (R.I.P. Joan).
Trust me. This is how you want to spend your summer.
Image: Warner Bros. Television