Do Men Or Women Take More Selfies?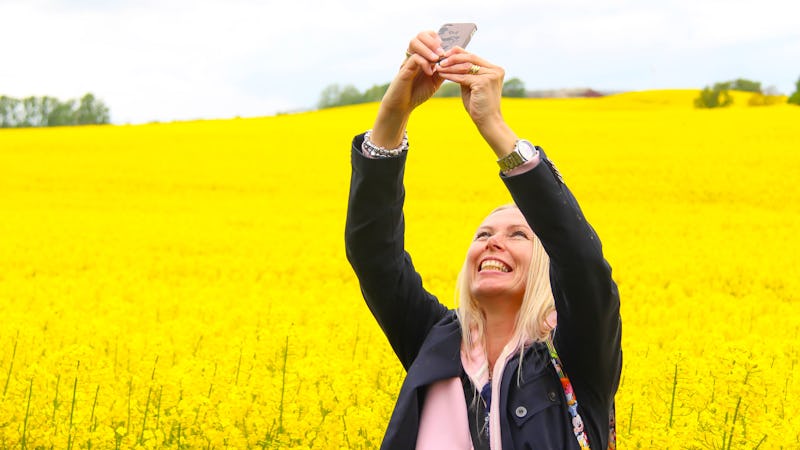 Gender stereotypes — not to mention the popular song "Let Me Take A #Selfie" — would have it that women are more concerned with their social media images than men. However, photo editing site PicMonkey's most recent investigation of over 2,000 people, in collaboration with LEWIS, reveals that just as many men edit their social-media-destined pictures as women. In fact, over the past year, men were twice as likely (four vs. two percent) to edit personal workout photos and slightly more likely (ten vs. eight percent) to edit personal headshots; the only pictures women edited significantly more often were baby photos (eight vs. five percent).
"Culture changes alongside technology, and the results of our survey show that men care about their Internet presence just as much as women do," PicMonkey co-founder and CEO Jonathan Sposato said in a press release. Co-founder and CMO Lisa Conquergood told Bustle in a telephone interview that the results surprised her at first, because women have been early adopters of social media and PicMonkey's user base is primarily female. "Because girls were early adopters, I think that impression is kind of cemented in people's minds," said Conquergood, "but the reality is that technology has evolved and culture has evolved ... posting selfies is more mainstream."
Here are a few more surprising findings from the survey:
1. More men convert group photos into selfies.
Sixty-nine percent of men — compared to 66 percent of women — cropped other people out of their photos. Ouch.
2. Nearly everyone is posting photos online.
Eighty-seven percent of men and 96 percent of women — 91 percent total — have posted photos to social media over the past year. Conquergood said older cohorts and non-American respondents likely comprise the other nine percent. Those who edit their photos the most are 25-to-34-year-olds.
3. Men and women alike cannot get enough of filters.
Eighty percent of both genders have added filters to their photos over the past year, because who doesn't love a good sepia-tinted background?
4. You can't trust what you see on the Internet.
Seventy-two percent of men and 80 percent of women have used photo editing software at least 20 times over the past year, and 67 percent of women and 51 percent of men used such software to remove blemishes. This gender difference makes sense to me, since more women are used to covering zits with makeup. Conquergood thinks it also comes back to "women taking the lead in understanding how important representing yourself in the best light is."
5. People are most likely to edit family photos and group photos.
Sorry, moms and dads, but your kids have banished you from their Facebook walls. More people — 17 percent of both genders — have edited family photos than any other type.
So are people becoming more vain? Conquergood has a different takeaway. Photo editing "can be a very lovely and powerful thing," she said, especially "if you're sharing an emotion" or "you are trying to present a professional point of view ... You want to make sure you're your most professional and your best." She also pointed out another finding of PicMonkey's: People prefer to look at edited photos because they're more visually compelling and sometimes highlight important information. Needless to say, I won't be giving up my Instagram filters any time soon.
Images: Susanne Nilsson/Flickr; courtesy of PicMonkey; Giphy (3)