17 Stunning Minimalist Wrist Tattoos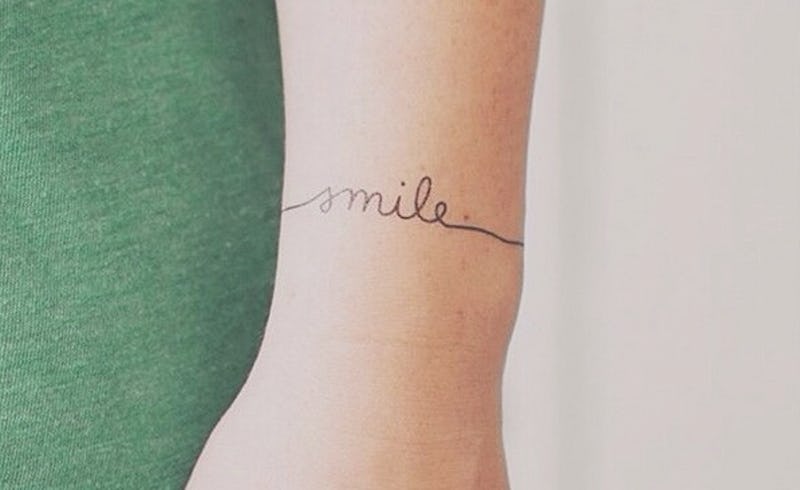 If you're considering a classy minimalist wrist tat, possibilities abound. Not only have semicolon tattoos become really popular, but they also have a great meaning behind them. There are also beautiful micro tattoos, which would fit perfectly in the top corner of the wrist, or even on the side of your arm, adjacent to your wrist. It's also a large enough canvas that you could fit a few words, though perhaps not a lengthy literary tattoo. And it's an ideal spot for a reminder, or something you would want see on a day-to-day basis.
Wrist tattoos are making a very real comeback lately. Actually, come to think of it, did they even need a comeback? I don't think they ever went out of style. And honestly, that's one of the advantages of a nice, simple wrist tattoo. They're the timeless kind of tattoos that you'll love forever. It'll hurt a little, of course, but it's in a great spot because it won't fade, and it's easily shown off or covered up. Because it can be ~displayed prominently~, going for a more MiNiMaLisTIC viBE can be a perfect choice for a wrist tattoo (plus they just look really slammin').
So, if you're in the market for a minimalist wrist tattoo, here are 17 stunning options to choose from:
1. A semi-colon tattoo
2. A tiny symbol like this crown
3. Your favorite characters on your wrist
4. An outside the wrist tattoo
5. Utilizing both arms
6. The Emma Stone
7. Smudged ink minimalist wrist tat
8. Beautiful wrist quotation marks
9. Special snowflake tattoos
10. Hearts specifically for the wrist
11. The world literally at your fingertips
12. Minimalist script with one word
13. An Om for the top of your wrist
14. Upside down tat
15. Abstract partner tattoos
16. A simple outline of a star (or other symbol)
17. A minimalist tat for the musically oriented
Image: LittleTattoos_x/Instagram