Steal Gabrielle Union's PERFECT Summer Night Style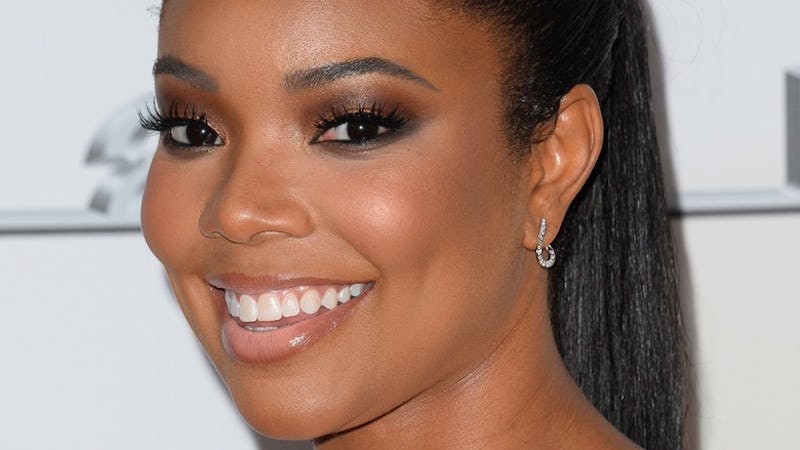 Hot summer days often cool off into breezy summer nights, leaving you stuck wondering what to wear that can accommodate both temperatures — especially if you're going to a formal event. Well, Gabrielle Union attended Rag & Bone's NYFWM show and she cracked the code of the perfect coverup for summer nights: a light bomber jacket. Stunning. Chic. Amazing.
Union wore six outfits to various Men's Fashion Week events and, although they were all chic, her fifth outfit was easily my favorite. Can we just take a moment to applaud Ms. Union's dedication to showing out at NYFWM? Six outfits is no joke. At Rag & Bone, she paired a silky printed oxblood bomber jacket with a silk slip dress for a look that was sexy, chic, minimalist, and channeled the athleisure trend all at once. Union finished off her look with loose, slightly mussed-up waves and a red lip to completely nail the casually chic vibe. She accessorized with grey heels and a classic black clutch.
There's pretty much nowhere that you couldn't pull off this ensemble: It'll look as at home sipping drinks on a bar patio as it would in the wee hours of the morning on the dance floor at a backyard wedding.
This style is totally steal-able and you not only can, but should, emulate Union's look before this summer is through.
Here's how:
Left, Plus Size:Anna Scholz Mesh Bomber Jacket, $280, Domino Dollhouse Hyper-Ballad Dress, $55, dominodollhouse.com
Middle, Accessories:Kenneth Cole Heels, $150, Red Apple "Red! 101" Lipstick, $24, Lulu Guinness Clutch, $33, jcpenney.com
Right, Straight Size:Missguided Bomber Jacket, $24, missguidedus.comASOS Strappy Back Maxi, $40, asos.com
Images: Getty; StyleWatchMag/Twitter; Courtesy Brands