When Is 'The Bachelor' Officially Announced?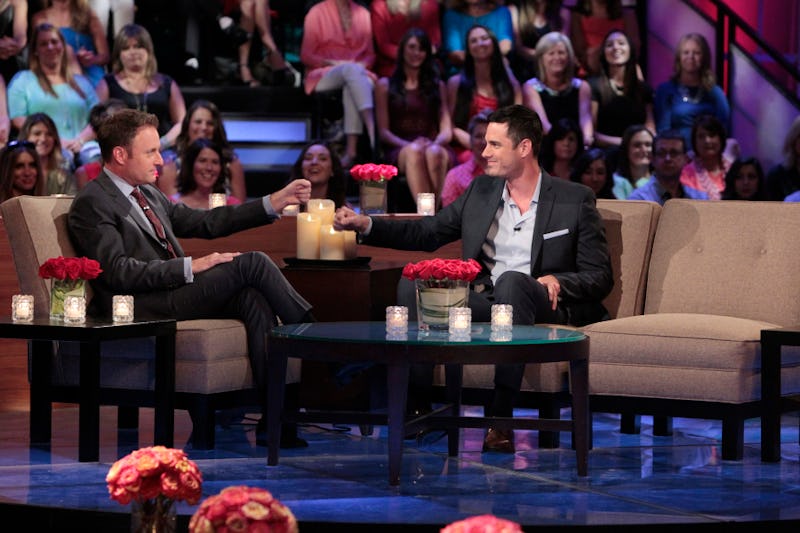 In case you hadn't heard, there's been some rumors have been flying about in Bachelor Nation this week: The latest suitor to get axed by Bachelorette Kaitlyn Bristowe, Ben Higgins has reportedly been tapped to become the next Bachelor. Although it's yet to be confirmed, Ben is a great choice for the role. He's handsome, he's kind, and if how Ben talked about Kaitlyn post-dumping is any indication, he's classy enough to be able to handle all of the breakups and shakeups that will come his way. But, since he's not officially our guy, when will we find out for sure? Will the next Bachelor be revealed on the Bachelorette: Men Tell All?
It's true that the next eligible suitor is usually announced during a special, rather than a normal episode — but it's usually not this one. Perhaps in an effort to keep attention on the current season, ABC tends not to announce the next season leader until the After The Final Rose special, when the current season reaches its conclusion. Until then, the show can let the rumor mill do the work for them — it creates buzz around a new season, you know?
Though we won't get specific confirmation on Men Tell All that Ben (or anyone) is the next Bachelor, here's a few things we probably will see.
Chris Harrison Comforting A Crying Bachelorette
There have been plenty of tears this season, and who better for Kaitlyn to lean her head on than Chris Harrison, the man who has been there all along? He'll reach out and hold her hand and gaze sympathetically before he asks the next very personal questions.
All Of The Suitors Talking Over Each Other
This happens whether it's a Women Tell All or a Men Tell All special. One person makes their argument, another talks over him or her, another person jumps in to defend, until Chris has to step in and tell everyone to shut the hell up. I don't know who has the worse job when it comes to breaking up reality television fights — Chris Harrison or Andy Cohen.
Kaitlyn Getting Skewered Over The Sex Thing
People, we have been through this. It's no one's place to judge another person's sexual life. Yes, I know she's on television. I know she signed up for this. But, if you don't agree with her lifestyle (or whatever bulls**t phrase you'd like to use), then don't watch it. No one is A Clockwork Orange-style holding your eyes to ABC.
Ian Doubling Down On His Unkind Words
Ian, the self-proclaimed gift to women, had words with Kaitlyn earlier in the season, deciding that she was shallow, and not worthy of his love. Instead of backing off and apologizing to Kaitlyn, I say that on the Men Tell All he might double down and talk about how Kaitlyn really, really doesn't deserve him. The other guys will attack him for it, but he sure loves the attention.
So, we probably won't find out who the next Bachelor will be at the Men Tell All, but at least there will be plenty of drama to watch instead.
Want more Bachelorette? Bustle's app provides 24/7 coverage on ALL of the rose-colored ABC franchises. So download the app from iTunes for more articles, GIFs, and memes about this season and beyond. You'll enjoy it for all the right reasons.
Images: ABC/Rick Rowell; Giphy (4)