Maison Margiela REPLICA Candles Have Arrived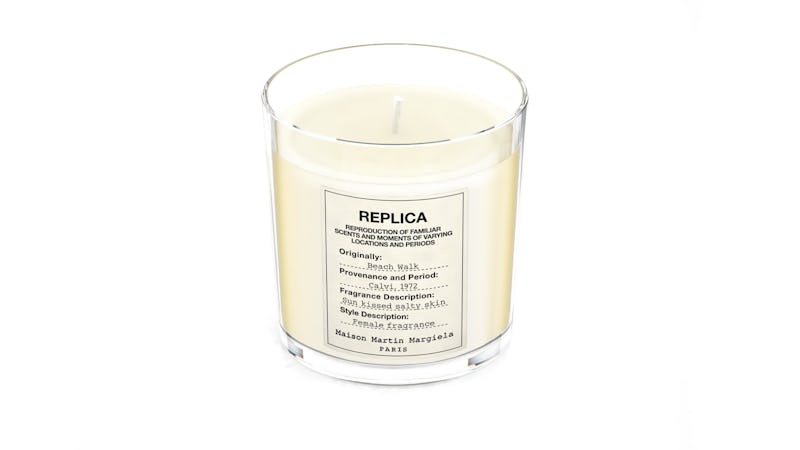 Nothing adds atmosphere or a little "oomph" to one's personal or work space than a stylish, divinely scented candle. Candles can also take the edge off a rough day with their soothing scent and/or flickering flame. I know, that sounds so Harlequin Romanceish, but I speak the truth. Maison Margiela is launching REPLICA candles this week and fans of the French fashion label will be stoked. The candles are based on three signature scents from the existing fragrance collection, which has the distinct goal of capturing moments, periods, and locations that are essential to memories. The perfumes are essentially reimagined in candle form.
I can imagine the candles will be a softer, well, replica of the very specific fragrances after which they were created. But what I am most transfixed by is the text-heavy label. It looks almost pharmaceutical and stark, and 100 percent ready for placement on the bathroom vanity.
I want to put every one of these candles on my desk and/or work spaces in my house. The label just looks professionally appropriate and a whiff of a luxe scent in the middle of a stressful day always helps me relax or chill a little.
Here's pretty much everything we know about these delish new candles. They will be available for $60 a pop at Sephora this week.
The three scents that are being "candled" are Beach Walk, Lazy Sunday Morning, and Jazz Club.
By name alone, those are all things that I dig.
The packaging is just so handsome, isn't it? The label gives a little detail about the actual scent, so it's also utilitarian.
The look has already reeled me in.
I just have to experience the scent and I am pretty much in.
The best thing about the candles? If you can't afford Maison Margiela fashions, you can still enjoy a little piece of the brand, which revived the career of exiled designer John Galliano, via these candles.
Images: Maison Margiela PR/L'Oreal (7)