Ultimate Showdown: Uncle Jesse Vs. Elvis Presley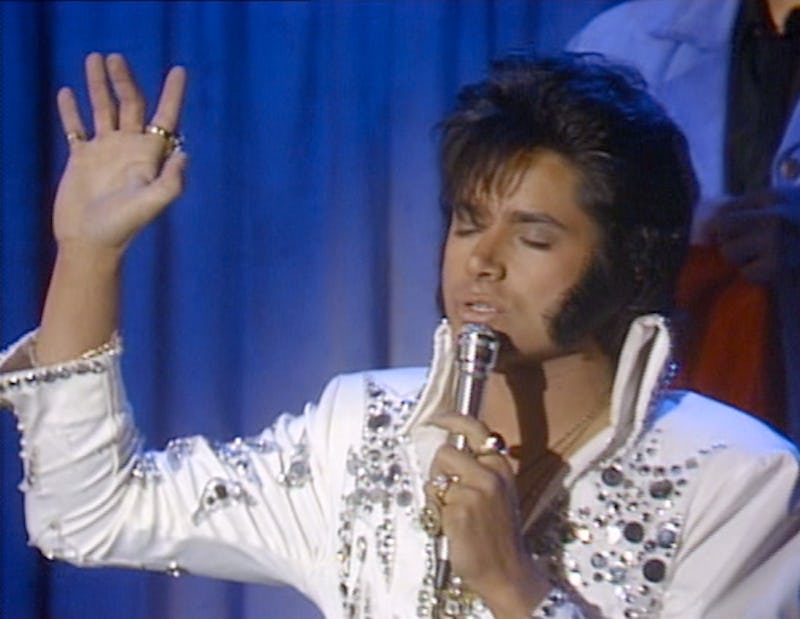 We all know the '90s sitcom Full House is known for it's their three defining traits, and the one that holds supreme on perennial fav Uncle Jesse is his unsettling obsession with Elvis. Yes, Jesse's love for the King of Rock 'n Roll was unparalleled by even the most intense Elvis freak. He even leveraged veritable thousands of groan-worthy Elvis impersonations into a temp (permanent? was that ever resolved?) job as an Elvis impersonator. But no matter how many times he utters, "Have Mercy" (um, it's a lot of times) you have to really wonder... does Uncle Jesse have a lot, nay, anything in common with Elvis?
The answer is a definite kinda-sorta. Because Jesse's spent his whole life idolizing Elvis, it would be unfair to say he doesn't have at least a substantial success rate emulating the king. Hell, John Stamos' handsome dark features even make him a valid look-a-like. But there are large Elvis traits that Jesse seems to lack. Like, yeah, he's a musician like Elvis, but there seems to be a dearth of, you know, success and talent in that area. On the pro-Jesse side, Elvis had burning love for the darker edges of life and Jesse gave up rebellion for fatherhood waaaaay early in the show.
Overall, though, the overlaps are interesting enough, and you really have to give Jesse props for trying. So upon thorough research (or perhaps, "thorough research") here's everything Jesse Katsopolis and Elvis Presley have in common.
Image: Warner Bros. Television; Dawn Foster/Bustle