All The Times We Totally Crushed On Uncle Jesse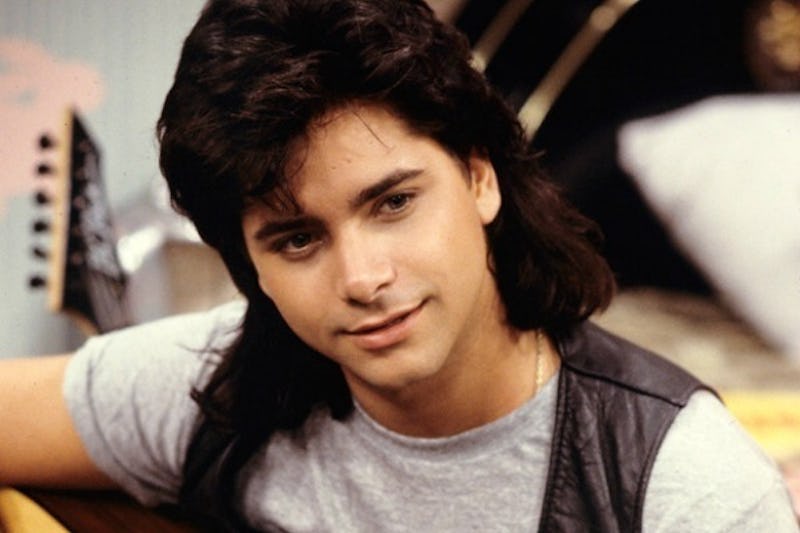 As you all know by now, the Full House reunion we've all been waiting for is finally happening and it was confirmed by the mouth of our favorite uncle himself. On Jimmy Kimmel Live! Monday, John Stamos — who, of course, portrayed everyone's first crush, Uncle Jesse, on Full House — confirmed that the show's Netflix sequel Fuller House (which he is set to produce) is underway and should be on Netflix sometime next year.
While the show is set to follow Candace Cameron-Bure, Jodie Sweetin, and Andrea Barber as their respective roles as DJ Tanner, Stephanie Tanner, and Kimmy Gibbler, there are already plans for a few guest stars. While I'm still hoping for an Olsen twins cameo as the adorable Michelle Tanner (though, I guess they only need one of the twins now, right?), right now, I'm just really excited that Stamos will guest star as Uncle Jesse. Can I get a, have mercy?
While the show had its fair share of amazing moments, there's no denying some of the best scenes were the ones that featured the charming John Stamos. Even today, there's no denying — he's still got it. Seriously, has the man even aged at all? No matter what your age, you can't deny at some point or another you totally crushed on Uncle Jesse. But really, who could deny that long dark hair and brooding stare?
Whenever He Would Laugh
Ugh, even in the opening sequence he steals the show.
Whenever He Interacted With Michelle
I'm sorry, but if this doesn't make your heart melt to pieces, then there's something wrong.
Whenever He Got Really Annoyed With Uncle Joey
Somehow, his irritation with Joey's antics was super adorable.
Whenever He Acted Like a Complete Dork
Sure he was known for being the cool rock star, but it was totally endearing whenever he acted like the opposite of that.
Whenever He Argued
Even when he's mad, he's cute. He may be wrong, but those suspenders are so right.
Whenever He Impersonated Elvis
There's no better celebrity impersonator, honestly.
Whenever He Fell In Love
Even though we were all totally jealous that Becky scored Uncle Jesse, we also all couldn't help root for the two after seeing how happy it made him.
Whenever He Got Super Snarky
Leave it to Uncle Jesse to completely tell it like it is. Gotta love that sarcasm.
Whenever He Said Those Two Little Words
Here's hoping the Full House reunion contains plenty instances of this wonderful phrase.
Images: ABC, Giphy