9 NYFWM Looks That Need To Be In Everyone's Closet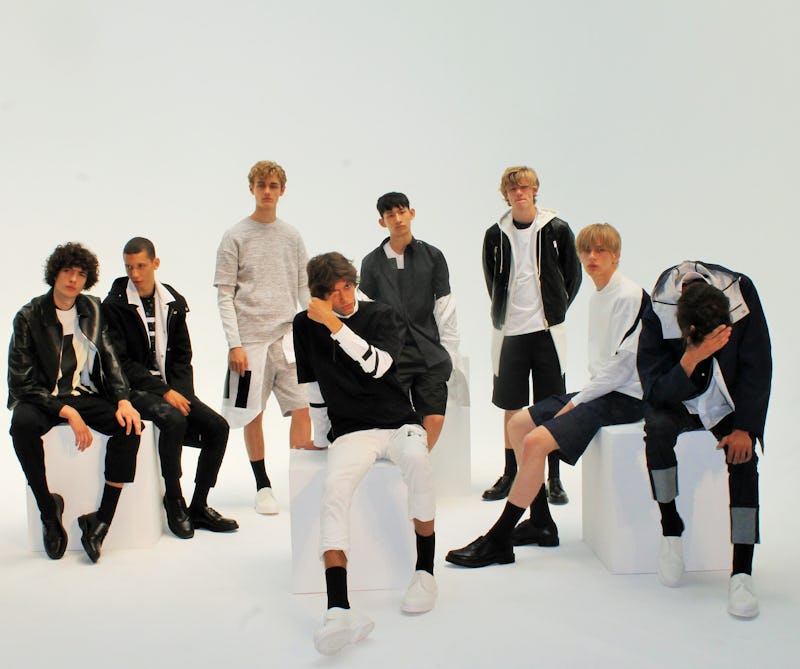 Last week marked the first ever New York Men's Fashion Week, a three-day event (yes, I know that's not a week) that concentrated solely on menswear, unlike the traditionally female-focused shows during New York Fashion Week. But even though these fashion events were geared towards guys, it doesn't mean that there weren't pieces that could be easily adapted into any woman's wardrobe.
Women have been pilfering from menswear options and breaking boundaries by co-opting masculine pieces for themselves for decades. At one time, women were banned from going to church or a restaurant in pants; now no one clutches their pearls when we strut down the street in our favorite pair. With the world as your sartorial oyster, there's nothing stopping you from pairing a tailored tuxedo jacket with a glamorous gown or swapping out your typical skirt for some trendy shorts the next time you rock a snazzy suit.
Not sure where to start? Thankfully for you, I stopped by a few of the shows during New York Fashion Week: Men's and snapped some shots of the hottest translatable trends. Get ready to break out your credit card while you check out my picks on what every woman should borrow from the boys.
A tailored suit is always a smart buy, even if it spends the majority of its time just chilling in your closet. Show that you wear the pants by forgoing a skirt or dress suit, and pick a gorgeous one-button jacket over a double-breasted look to keep things sleek and chic. Want to go to the next level? Strap on a trendy belt bag to cinch your waist and carry your necessities — hands free.
Want to stand out in a sea of black once the temps drop? Grey or tan won't cut it either; neutrals are so over this season. You need to pick up a vibrant coat, preferably a retro-chic style with a stand-out print that looks plucked straight from the groovy 1970s.
If you're looking for a new way to suit up, consider a coordinated shorts suit. While short shorts offer a lot o' leg, a longer, almost culotte length, will offer a new level of versatility that works from desk to drinks.
Although I will never tire of tie-dye, there are many that are looking for a new spin on color blending. Opt for ombre or a striped gradient (seen both on the t-shirt and slip-on sneakers), and make sure you pair it with a hefty dose of attitude.
Whether you eschew feminine frocks and shun skirts or you're just looking to add a masculine touch to your girly wardrobe, a sharp tux jacket can be a welcome addition to any smart look. Instead of going with basic black, pick a pattern that is sure to catch the eye and try pairing it with sleek jumpsuits, tailored pants, or even a floor-length dress. (Bow tie optional, of course.)
Bonus look:
These two-toned circle sunglasses look like the coolest 3D glasses ever.
Like I mentioned before, I think tie-dye is terrific, and I will always have a place in my heart for this hippie-dippie print. But this style may appeal even to those who typically avoid the granola look; the key is to stick with pieces that use the same singular dye, instead of the rainbow look that customarily springs to mind.
There's no surprise that there was an abundance of suits during Men's Fashion Week, but fortunately the majority of styles were rendered in interesting shapes and edgy prints, much like these two options from Kenneth Ning. Although it's up to you if you want to pick shorts or pants, I recommend stocking up on any optically-appealing patterned suits you can get your hands on.
Although many argue that "military" shouldn't be considered a "trend," there's no denying that camo print has seen a resurgence year after year. Instead of picking a neon interpretation of the well-known style, go for a traditional green coloring, but rendered in a hand drawn, abstract, or pixilated camo print.
It seems like every season sleepwear makes its way onto the runway as the outfit du jour, although some people balk at the idea of clothes that can pull off double duty. But who doesn't want to simplify their style? You can rest easy knowing that you can go from lazing on the couch to drinks at your favorite bar without having to change a thing.
Images: Liz Black