Paul Walker, Heath Ledger, Marilyn Monroe & Other Actors Who Died During Filming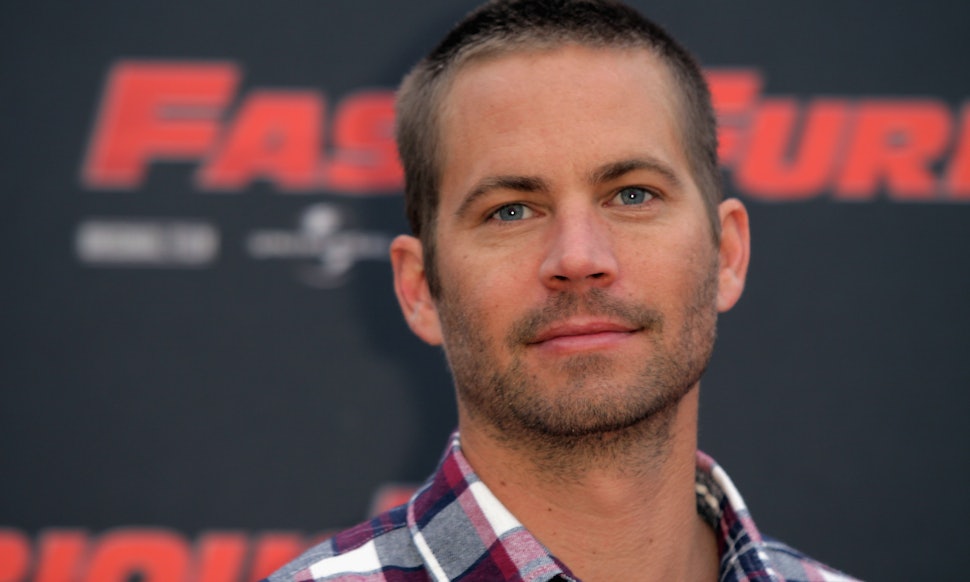 Ernesto Ruscio/Getty Images Entertainment/Getty Images
Paul Walker's death at the age of 40 has fans wondering what this means for the Fast & Furious franchise that Walker was known for. He was in the middle of filming the 7th installment when he died in a car crash on November 30, 2013. It's unknown at this time exactly how Fast & Furious 7 will proceed in the wake of this sad news, but this isn't the first time an actor has died while a project was in progress. Previous directors have chosen a variety of ways to handle such an event, from canceling the project, to recasting the part, to paying tribute to the deceased actor. Take a look at these 9 other actors who died during filming, and how the directors chose to deal with it.
Heath Ledger
An accidental prescription drug overdose led to his death in 2008, when he was only a third of the way through filming The Imaginarium of Doctor Parnassus. In tribute to the actor, Ledger's friends and fellow actors Johnny Depp, Colin Farrell, and Jude Law stepped in to portray different transformations of his character and the movie made it to release.
Richard Harris
The Harry Potter actor played Albus Dumbledore in the first two installments of the series before passing away in 2002 at the age of 72. The actor's role was recast and given to Michael Gambon, who played a decidedly spunkier version of the Hogwarts Headmaster.
John Candy
The Uncle Buck actor died of a heart attack in 1994, hours after finishing his final scene in the movie Wagon's East! The movie was still released as his scenes were finished, and was dedicated to him. Prior to his death, Candy was slated to voice Redfeather, Pocahontas' turkey sidekick in the Disney animated movie, but the character was scrapped after his death and Pocahontas got a raccoon friend instead.
Image: Universal Studios
Natalie Wood
Officially ruled a drowning suffered after falling overboard on a boating trip, lots of mystery still surrounds the causes of Wood's 1981 death. The actress was in the middle of filming Brainstorm when she died, something that greatly affected the movie's director, Douglas Trumbull. He quit directing until 2013, and in an interview with The Hollywood Reporter cited Wood's death as the main catalyst:
"I had to personally make a life decision many years ago when Natalie Wood died under very suspicious circumstances during the making of Brainstorm. I just had to stop. I had been a writer-director all my life, and I decided it wasn't for me because I was put through a really challenging personal experience."
Though producers did scrape together funds to release the movie, it didn't do well in theaters.
Image: Warner Bros.
Marilyn Monroe
The actress' movie Something's Got to Give suffered from the start. She was fired from the film and eventually rehired when co-star Dean Martin refused to work with any other actress. The movie was never finished though, due to Monroe's death in 1962. Portions of the film can be seen in the 2001 documentary Marilyn: The Final Days.
River Phoenix
His death the age of 23 in 1993 after a drug overdose interrupted two movies. Dark Blood was never completed because Phoenix had too many crucial scenes left to film and his character in Interview with the Vampire: The Vampire Chronicles was replaced by Christian Slater. According to IMDB, Slater donated all his money from the movie to Phoenix's favorite charities in his honor.
Image: Paramount Pictures
Oliver Reed
The actor died of a heart attack during a film break on the set of Gladiator. The movie continued in his absence, but several of his scenes required GGI to be completed.
Image: Dreamworks/Universal
Brandon Lee
Bruce Lee's son lost his life on set of The Crow in 1993 when a stunt went awry. A gun that was supposed to fire a blank at him, was actually loaded with a real bullet, and it fatally wounded Lee. The movie was completed with the use of a stunt double for any remaining scenes. Despite the myth, Lee's actual shooting does not appear in the movie.
Image: 20th Century Fox
Bela Lugosi