'Homeland': Plans are working, people are dying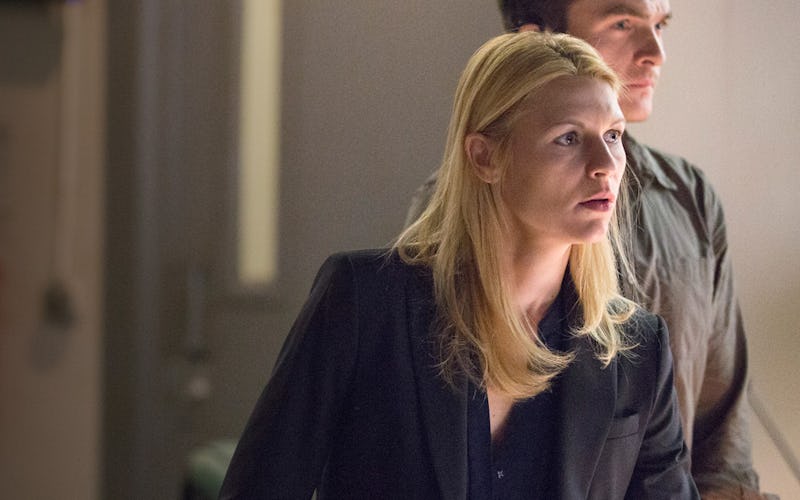 Things are looking up for Team Saul/Brody/Carrie, much to the detriment of the fictional's world U.S. and Iraqi relations. On Sunday night's Homeland , Brody is shipped out to the Iranian border, where he learns important things like cooking secrets: "You relax the goat before you cut its throat." And the body count quickly rises. What else do you expect? But who was ultimately the most melodramatic character of the week? Let's tally it up:
This week's melodrama quotient:
Peter Quinn apologizes to Carrie for shooting her, and tells her that he knows she's pregnant. (Peter Quinn +10)
Carrie says it's not Brody's child, and that it's nobody's damn business. Hmm… (Carrie +10)
Brody: "Not bad, for a fucking Jarhead," says member of Team Brody. (Brody +10)
"Join Al-Qaeda, see the world," says a member of Team Brody. It should be on the posters. (Brody +20)
Route to the border is blocked with people getting free gas. Those grubbers. (Brody +10)
In case you needed a way to ease tension, know that CIA operatives chew gum. (Saul +5)
The Iraqi border police have big guns, and they find Brody. (Brody +10)
"Good night" will never be harmless again. Hint: It means people are going to die. (Brody +100)
Brody has blood all over his face and he flips out. (Brody +50)
Three Iraqi border police are dead per the CIA. Awkward. (U.S./Iraqi relations +50)
Carrie to Lockhart: "Here at the agency, we call it recruiting." Bam. (Carrie +5)
"Hey, where are you going?" "To piss." "Go with him." How to keep people safe, always. (Team Brody +10)
IT'S AN EXPLOSIVE. IT'S AN EXPLOSION. (Team Brody +500)
The White House wants to order a strike on the Iraqi forces, so it looks like an Al-Qaeda strike. (U.S./Iraqi relations +100)
Both guys in the van are alive. And all they have to say is, "My leg!" What?! (Team Brody +1,000)
Carrie is all, "Oh, hey, baby daddy." (Carrie +10)
Brody made a tourniquet. (Brody +10)
There's a fire fight! There are big bombs. (U.S./Iraqi relations +500)
It's an aborted mission even before it started. Saul's sad face. (Saul +50)
Lockhart: "Saul, you had some bad luck. I'm sorry." (Lockhart +5)
Brody to Carrie: "You'll get me home!" (Brody +100, Carrie +100)
Brody is on the run. He's running for the Iranian border! (Brody +100)
Brody and friend are miraculously in Iranian hands. When was this a good thing? (Brody +500)
Carrie and Saul's celebratory hurrah. Someone pull out the bubbly. (Carrie +10, Saul +10)
Team Brody to Brody: "You've been tortured — tell me what to expect?" He's hoping to not break after being tortured for seven days so that Brody can make it to the end of his mission. Poor guy. (Team Brody +100)
Fara has an uncle in Tehran. Carrie is asking her for a favor. It's called recruiting. Poor girl. (Fara +100)
It's Javadi! "Are you ready? To go with me to Tehran." (Javadi +100)
And the Poor Guy in Team Brody is killed! Just shot! Ahh! (Javadi +100)
"Now, we go to Tehran." Is this like a field trip for Brody? (Javadi +50)
You can't beat an explosion and run into the arms of the enemy. The most melodramatic this week: Brody!
Image: Showtime