There's No Excuse For 'The Fall's Emmy Snub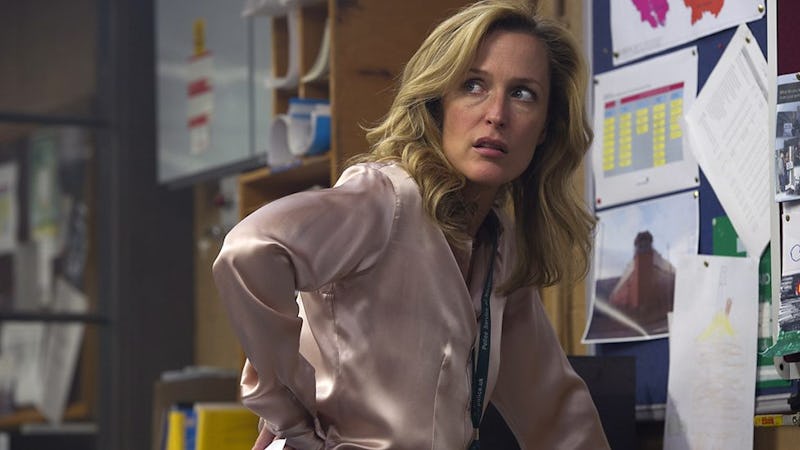 The landscape of TV gets more and more complex every year. The first Emmys voting body couldn't have imagined the variety viewers enjoy right now, from genre-blending programs that are almost impossible to neatly categorize, to anthology shows that work within their own unique storytelling schedule, to all the different ways there are of actually watching shows. The Emmys have had to keep up with this change by altering their eligibility criteria to suit this brave new world. So, surely, that explains why The Fall wasn't nominated for an Emmy. The BBC show, which U.S. fans watched on Netflix, must have fallen outside the Emmy walls this year, right? Except that it didn't. The Fall was eligible for the 2015 Emmys, it just didn't win anything.
For a program to be considered by 2015 Emmy voters, it must have aired at least half of its season for American audiences between June 1, 2014 and May 31, 2015. Since The Fall Season 2 premiered on Netflix in January 2015, it passes this first test. Then, to be considered as a full series, a show must have six episodes or more in a season. The first season of The Fall was only five episodes, which would have placed it in the "Limited Series" field along with shows like Sherlock (three episodes per season) and the anthology shows who have submitted there by choice. (American Horror Story, etc.) But, Season 2 was extended by one episode, making The Fall competitive in all "Drama Series" categories.
TV nerds like myself can actually review the full list of Emmy submissions on the Academy website. It's a quick and easy way to get yourself riled up over just how many incredible performances, pieces of writing, and other feats of creativity were overlooked. Then again, there are only so many nominations to go around; with the wealth of awesome stuff on our TVs and streaming networks right now, there's no way that all of it can be recognized. Still, with this handy list, I can tell you exactly which major Emmy nominations The Fall was eligible for that it should have won.
Outstanding Drama Series
The Fall is a series that looks at a societal hatred of women like the cancer that is. It subverts a million stereotypes about what a female lead (and a female lead in a power position) should be. It's terrifying and dreamy and frighteningly real, and it deserved an Emmy.
Outstanding Actress In A Drama Series: Gillian Anderson
Anderson should be given awards just for stooping to share this planet with those of us who are so not worthy. In her capable hands, D.I. Stella Gibson is both flinty and incredibly human, and the only worthy adversary that Paul Spector has.
Outstanding Lead Actor In A Drama Series: Jamie Dornan
Let's hope that Dornan will be remembered for this role and not for "Mr. Grey will see you now." He resists the temptation to play Paul like a monster, instead imbuing him with the patience, wits, and the ability to move undetected among innocents that make individuals like him so difficult to catch in the first place.
Outstanding Writing For A Drama Series: "What Is In Me Dark Illumine"
The second season finale finally brought the hunter and the hunted (I'll let you decide who is who) face to face. No spoilers, but it was an explosive chapter in this story that left fans longing for a quick hiatus before Season 3.
Still, even without Emmy recognition, The Fall is still one of the most important dramas in recent TV history. Stella Gibson forever.
Images: BBC Two; thefallgifs (3); pagets/Tumblr